Many people concentrate on buying the best miter saw but hardly consider the type of blade. While you can buy the best miter saw, you will not get the best performance if you use the wrong blade. There are different types of saw blades you should consider depending on the material you intend to cut.
In this guide, we will cover the types of miter saw blades suitable for different materials. You will learn more about miter saw blades for wood, miter saw blades for aluminum, and miter saw blades for metal and PVC.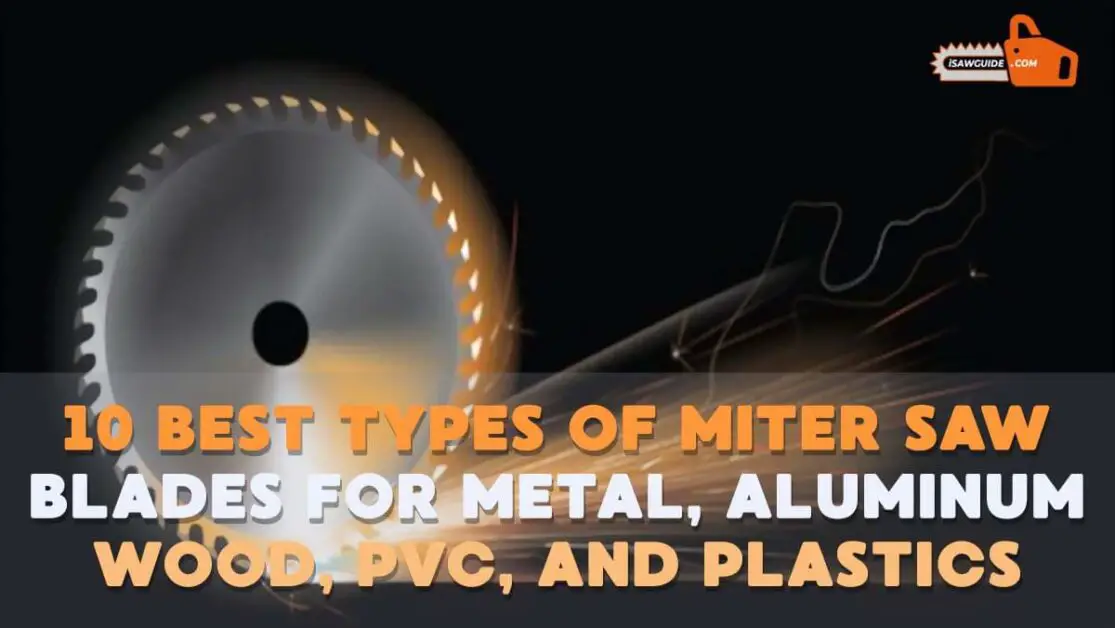 What Are the Different Best Types of Miter Saw Blades for Metal, Aluminum, Wood, and PVC?
Miter saw blades come in different categories which depend on the material the blade is made of. The following are the most common types of miter saw blades.
These blades are great because they handle different types of cutting jobs. The blades are inexpensive and they work well when cutting plastics, softwoods, and other materials.
These blades are tougher and they keep their cutting edge perfectly under high temperatures. The blades operate at high speed and the cutting edge doesn't get dull.
The hardness of high-speed steel blades ranges from 62-65 HRC and they can handle up to 600 degrees C.
The blades are great for tougher materials like hardwood because they operate at higher speeds.
These miter saw blades are expensive, durable, and the strongest. The blades have a hardness of 70-80 HRC and this makes them ideal for cutting tougher materials like steel and other metals.
Diamond and abrasive blades are not recommended for miter saws for some reason. The miter saw spindle bearings cannot handle abrasive discs. The abrasive wheels also produce sparks that melt the plastic components of the miter saw.
How Do I Choose a Best Miter Saw Blade for Woodworking and Carpentry Project?
After choosing your miter saw, the next big thing to consider is the miter saw blade. The following are some essentials tips that will help you pick the right miter saw blade.
Blade Material
The blade material you choose should depend on the material you intend to cut. Each material requires a specific type of blade that varies in hardness, thickness, and teeth number. For instance, you need to cut solid hardwood, you need a harder blade.
If you want to cut aluminum, plastic, or laminate, a universal saw blade is just fine. You can choose different blade materials like high carbon steel, carbide, tungsten carbide, and chromium among others.
Miter Saw Diameter
Every miter saw features a specific blade size that it should work with. If you choose the wrong sized blade, then you will experience problems. The common types of miter saw sizes are 12-inch miter saw blade for wood, in-inches, 8.5-inches, and 7.5-inches.
Blade Tooth Count
The number of teeth in your blade affects the cutting outcomes. If you need to get smoother and cleaner finishes, get a blade with many teeth. If you are cutting thicker materials, a blade with fewer teeth is better.
You should also note that a larger blade has more tooth count. For instance, 12-inch miter saws have 80-100 teeth and this provides smoother finishes.
8.5-inch miter saws have a 60 tooth count. You can check miter saw blade teeth guide to determine the right tooth count for your blade.
10 Best Types of Miter Saw Blades for Metal, Aluminum, Wood, PVC, and Plastics
Selecting the right miter saw blade enables you to achieve the desired cuts. Below are top blades ideal for metal, aluminum, wood, and PVC.
This is a durable carbide 10-inch miter saw blade designed to handle tougher materials. The blade doesn't warp because it is heat-treated plate removes warping.
The blade features precision ground teeth that offer accurate and smooth cuts. The blade is corrosion-resistant since it has a coating to ensure it doesn't rust.
If you need a miter saw blade for metal, this one will make a good selection. The blade has a maximum RPM of 3000 and 52 carbide teeth. It is designed to work with Evolution saws and other miter saws with lower RPMs.
Like other Evolution miter saws, this one features high-quality carbide to provide durability and great performance.
This is the best miter saw blade for fine cuts. The carbide blade is ideal for plywood, softwood, and hardwood. It is designed with micro-grain carbide teeth with up to 600 grit honing.
This gives it a nice mirror finish. The blade is great for fine crosscutting and its thin-kerf design offers smoother cuts while providing little material loss.
Get this 10-inch miter saw blade for wood projects. The carbide miter saw blade features 40-teeth to provide professional results. The blade operates at 6000 RPM which makes it ideal for cutting softwood and hardwood.
The miter saw blade for fine woodworking is designed with an ultra-thin kerf to give you efficient and clean cuts. The blade is compatible with many 10-inch miter saws, table saws, and job site saws.
Equip your miter saw with this amazing blade that delivers excelling cutting abilities. This is the best mitre saw blade compatible with wood materials. The tool is designed with precision-ground teeth to offer accurate and smooth cuts.
It features a fully hardened plate for long-lasting use. the blade is made of quality carbon steel material for extended use. It features a 24-tooth count which makes it ideal for finish and trim jobs.
The Diablo 10 inch non-ferrous saw blade is ideal for cutting aluminum, metal, copper, plastic, and brass. The saw has an 80 teeth count which is great for providing smooth cuts.
It is equipped with a laser-cut stabilizer vent that traps vibration and noise and this keeps the blade.
Additionally, it features laser-cut heat expansion slots to enable blade expansion as a result of the heat buildup and keeping the cuts straight and true.
This is another 12 metal cutting blade for miter saw. The Freud 12" miter saw blade can cut copper, aluminum, metal, and brass. The blade is easy to use and it has a laser-cut stabilizer vent to reduce vibration and maintain the blade cool.
The blade also features tri-metal shock-resistant brazing to give room for carbide tips to handle more impact and enhance its durability.
The 12-inch aluminum cutting blade for miter saw also works well for bronze, copper, and brass. The 12-inch 100 tooth miter saw blade is made of professional-grade carbide material for unmatched durability.
The carbide is long-lasting and provides clean and burr-free cuts. The blade has copper-plugged expansion slots and precision ground carbide tips that all contribute to clean cuts.
This metal cutting blade is ideal for metal siding, steel studs, steel roofing, and steel pipes. It features a modified triple chip grind that offers easier cutting.
The blade also features 0 degrees hook angle to minimize jamming, overfeeding, kickback, and tooth breakage.
This durable blade provides professional results when cutting metal and alloy steel.
Get the desired cutting outcome with the Makita 60 tooth saw blade. The 12-inch metal cutting blade for miter saw is made of carbide material to provide durability and great cutting performance.
It works well when cutting channels, angle iron, steel pipe, and conduit among others.
Frequently Asked Questions (FAQ)
Q: What is the Best Blade for a Miter Saw?
A: The right blade for your miter saw should have the right teeth number to help you handle the desired material. A good miter saw blade should have around 80 teeth, the higher the tooth count, the cleaner the cuts.
Q: What Kind of Blade is Used to Cut Metal?
A: Cutting metals requires a tough blade like carbide blades. These blades are durable and they are strong enough to cut metals.
Q: What is the Best Miter Saw Blade to Cut Aluminum?
A: If you need the best blade to cut aluminum extrusion, look for a nonferrous miter saw blade ideal for cutting non-ferrous materials. The blades feature a triple chip grid tooth which is ideal for aluminum and plastic materials.
Q: What is the Best Blade to Cut PVC Board?
A: The best miter saw blade for PVC trim requires carbide-tipped blades. Steel blades are not recommended because they get dull quickly.
Q: What is the Best saw Blade for Cutting Plastic?
A: If you need to achieve straight cuts on thicker sheets of plastic, get blades designed for plastic. These blades are labeled as "no melt" blades.
Final Words
Every material requires the right you to use the right blade on your miter saw. We have given you the best 10 types of miter saw blades for metal, aluminum wood, PVC, and plastics. I hope you will make the comparison and choose the right miter saw blade that suits your needs.
You May Also Interested to Read:
To Learn More About Woodworking and Carpentry Visit at

iSaw Guide

Home.