A bit similar to, but more useful than a band saw, a scroll saw is a small tool for woodworks. Historically this tool is a modern shape of coping saw and fretsaw.
The tools were a symbol of ancient time and one of the best choices for woodworkers. It is a small electrical machine with 6 inches teethed blade.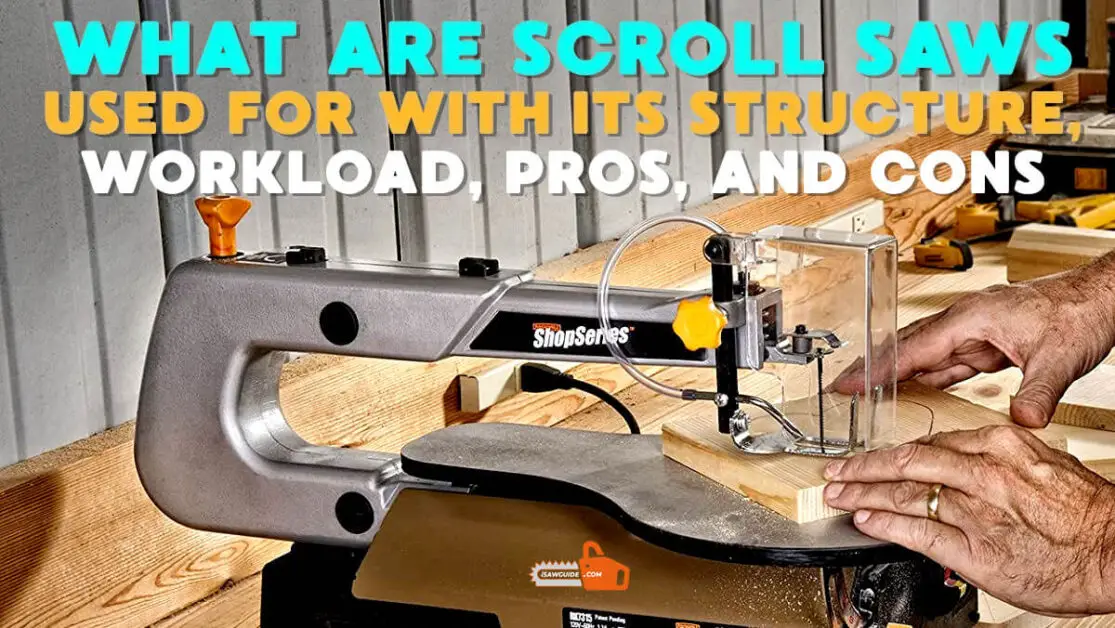 However, some manufacturers are making pedal-operational tools for energy-saving goals.
Although its thin blades are also used fully for hard materials like plastic, copper, and iron. It has different types of blades according to its demands.
Scroll Saw's Structure and Workload
As we mentioned, these tools can be varied according to use, so scroll saw design can be different. But basically, it all structure and component almost same to work.
Let's see how to use the scroll saw components If you are a new user. You must understand all of its parts and uses. Here are some of its components and their role:
Table
The table is made of silver steel, and its main function is to keep metal on its surface.
Blade Guard
Second, the most vital component is made for consumer safety, called blade guard. It will keep away human hands during the woodworks.
Tilt Lock Knob
It is an alternate lock knob that works to fix the plate during the wood cutting. Your piece of wood cannot slip anyway.
Power Switch
Every saw has a power switch for on/off. You have to take care of it. Tap on, switch off after work to ensure security.
Blade Tension Knob
The blade tension knob is another part of the scroll saw that you can see on the back end of the saw. Before woodcutting, you must adjust it as to workload.
Throat
The throat is the part that is different in all types of the scroll saw. Its size, shape, blades, and working capacity is multi-styled in all comparative products.
Electric Motors
All saws used for wood cutting have a powerful electric motor inside. This motor helps the blades to move up and down.
Blades
No Saw can work without fineness blades. Its teethed and sharpened blade vastly works on wood as your best time-saver.
Types of Scroll Saw
Usually, the scroll saw has classified into two ways:
Shape and size of scroll saw
Scroll saw blades
1. Classified By Shape and Size
The first classification of the scroll saw is the shape and size of the throat. Before buying the best one saw is according to demand, for example, what size of the wood piece and how the woodworker wants to use it.
Although it has already had small or mini-size saws, its throat size is 12 inches. In some saws, a 30-inch throat can work on thick wood pieces, but its average size is 16 to 20 inches.
2. Classified By Scroll Saw Blades
The second classification relies on scroll- saw blades shapes. However, plain or pinned are the types of scroll saw blades. Now, it is up to the woodworker or the artist, which blade is best for his project and pattern?
What Are Scroll Saws Used For – Learn the Best 6 Different Uses of Scroll Saw
Although, this tool works like a band saw, and its blade movement is up and down into a piece of wood. It is a useful tool for artists for intarsia projects, interior design, and decoration.
1. Ultra-intricate Designing
The main feature of the scroll saw pinned blades can work on a complicated design on wood. It's a kind of complex woods art that is used for the designing of a commercial building.
With the help of a scroll saw, woodworkers can create ultra-intricate masterpieces.
2. Curve Cutting
Scroll saws are the prior choice of the craftsman who considered it a time saver and shapes maker. The scroll saw flawless blades can cut wood pieces at 90 degrees.
It means craft-men use scroll saw blades to move on all kinds of wood carving designs.
3. Jigsaw Puzzle
Most woodworkers remanded scroll saw blades as the best jigsaw puzzle maker. It can make cleaner and dust-free zigzag curve cutting and awkward angles.
4. Four Basic Cuts and Work
The scroll saw additional feature is making of four basic cuts and work. These cuts are called cross cutwork, miter cutwork, compound cutwork, and bevel cutwork.
If you want a dust-free plain and neat dovetail joint. Just you need to use scroll-plain blades.
5. Wooden Toys and Name Sign
Scroll saw blades patterns are also used fully for kids' entertainment and joyless. It is one of the best living hoods for an artist who makes toys and name signs on wood strips.
Animal shapes on the wood are the most demanding job for craft-men.
6. Home Interior Decoration
If you want someone home, you have noticed the wood sceneries and design on the wall. These alphabet, numbers, and designing home DIY and decoration pieces are the signs of craftsmen's effort with a scroll saw.
Yes, scroll saw blades can make various creative masterpieces with wood.
Pros of Scroll Saw
Scroll saw is the mini saw for crafting and dust-extractor to keep the workspace clean, a light, bevel action for cutting sharp angles. That is not enough pic of the feature the scroll saw.
Here is another feature that is the best description, here are some of the basic features.
Small Tool
Scroll saw is a small portable and less space cover tool. It is lightweight and easy to move. You can take scroll saw anywhere as your work demand.
Micro Smart Cut
The thin blade of the mini scroll saw gives a smart cut on the piece of wood. You need to make holes for blades with the drill.
Exact Cutting Option
Unlike band saw blades cut, these blades can cut multiple angles. That is why this tool is best for crafting and letter signs.
Cons of Scroll Saw
As we know, everything has cons also. So scroll saw has some advantages, but these are adjustable and don't much harmful.
Blades Tension
Scrolling saw has its own blades changing system and, woodworker has to change every time of use for potential work. If you don't tight the blades, it can hit your harm.
Limited of Use
With a lot of uses, it has some limits for cutting. It can cut small pieces of wood and reshape it, but it cannot be effective for big straight pieces of wood.
Frequently Ask Questions (FAQs)
If you are thinking about purchasing the product, you have a right to ask the question. Afterward, you can buy the best scroll saw for your need.
So we have collected some FAQs for the consumer. Probably, it will help you with the best choice of wood carving design drawing.
Q. What is the difference between a scroll saw and a band saw?
A. Scroll saw vs band saw is not clear so far excepting its size and operation. One of the biggest differences is blades movement: a scroll saw blade has up and down movement while a band saw has only downward movement.
Q. How did many mini scrolls see the effective tool on woods?
A. A mini scroll saw is a look-alike band saw kid, but it is also very effective to cut on metal like plastic and brass within the wood. Its too tinny blades can create wood art and solid patterns.
Q. What is the ideal size of the wood piece for the scroll saw blade?
A. Scroll saw is an adjustable cutting tool for wood art and crafts. Its thin blades can cut intricate curves and joints. You have to bring a wood strip, which size of ¾ inch. After this size, your saw blade can be hard on wood.
Q. Is a scroll saw safe tool?
A. Yes, of course. Scroll saw blades are hard on wood, but it is the safest tool for the beginner. Just you need to adopt some safety parameters.                            
Final Verdict
Wooden calligraphy, alphabet named sign, and other admirable wood carvings pattern sculptures are a show of the scroll saw. But here is a point; I am not missing human efforts.
Electric and pedal operational scroll saw consists of a thin blade of two types; Pinned and plain- blades. This tool is also more effective in-home DIY and lifestyle.
You May Also Interested to Read:
To Learn More About Woodworking and Carpentry Visit at iSaw Guide Home