Are you having trouble with dead branches? Do you need help finding the best tools for cutting tree branches? Well, you are in the right place. It's usually time to cut or trim tree branches when they are bare in the dormant season.
However, this job needs to be handled by the best tree trimming tools if you want the best results. There are many options out there, and we will help you find the right tools depending on the condition of your trees.
As you navigate these tools, remember to also invest in the right safety gear to follow the right safety recommendations.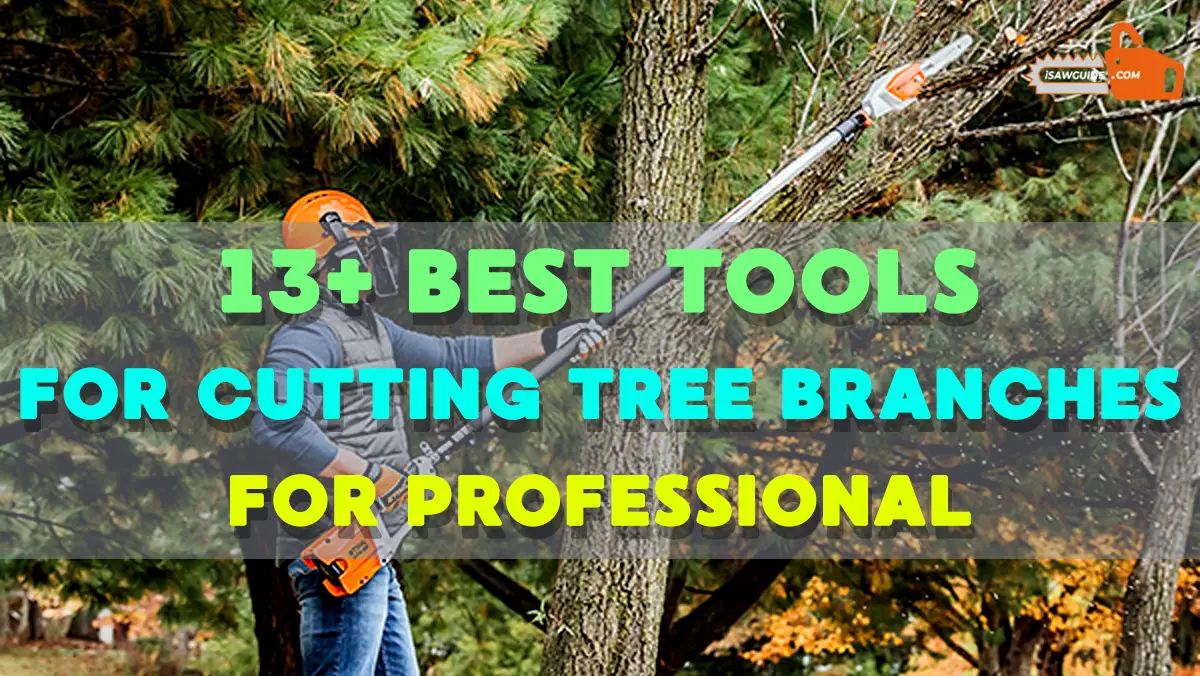 13+ Best Tools For Cutting Tree Branches For Professional
1. Pole Tree Pruner
A pole tree pruner is one of the tools to go for if you need a tool for cutting high tree branches while you keep your feet on the ground. With a pole tree pruner, you can be sure that pruning higher limbs won't put you in a dangerous situation.
The tool comes with a curved head with a second blade that you can operate from below, closing against the first to efficiently cut off the tree branch. The tool is a little hard to get used to at first, and it is usually professional tree trimming equipment, but once you get the hang of it becomes easy to use.
2. Gas-Powered Pole Saw
This tool is one of the quickest ways to easily cut tree branches without a ladder or climbing the tree. This is one of the best power tree trimming tools as it comes with a longer blade serrated to grip the branch you are working with easily. You can attach a gas-powered pole saw to an extended rope to make the operation of the saw head easy.
3. Chain Saw
This is also commercial tree trimming equipment since you can use it to cut trim and cut through thick branches without difficulty. A chain saw is fast and portable, meaning you will cut through those branches quickly without getting fatigued from handling the machine.
It is one of the most common equipments used to cut down trees today as it allows you to work with tree branches of any size, unlike most tools in this list.
Husqvarna 120 II 16″ Gas Chainsaws, Orange
Husqvarna 16-inch 120 Mark II chainsaw is ideal for tasks such as tree pruning, firewood cutting and hobby work.

38cc X-Torq engine reduces fuel consumption and gasoline emissions.

LowVib anti-vibration system reduces vibration levels for the operator.

Simple tensioning system allows for quick adjustments while working.

Compact, lightweight chainsaw that's designed to start up easily
4. Loppers
Loppers fall under the tree trimming tools and equipment as they make trimming smaller branches easy. Loppers come with two handles, and they usually work like scissors, only that they have very sharp blades to cut through branches easily. You will have to operate the tool while holding the two handles to cut the tree branches.
Jardineer 2″ Anvil Loppers Shears – Loppers Heavy Duty with Garden Shears & Spare Blade, Effortless Pruning Tree Loppers, 30″ Long-Lever Tree Trimmer Branch Cutters
【GIANT BLADE CUT 2" BRANCHES LIKE BUTTER】 - This anvil loppers shears with excellent cutting capacity, glides through branches smoothly and solve your toughest trimming work with ease. Durable blade stays sharp even after some heavy use.

【RATCHET GIANT JAW TO SAVE LABOR】 - This loppers heavy duty with a giant ratchet jaw to maximize cutting force with your minimum effort, make every cut easy and joyful. Solid steel handle with soft grip ensures durability and comfort.

【DURABLE PRUNER TO REGULAR PRUNING】 - This garden shears is ideal for snips stems and light branches, Carbon steel blade makes non-stick cut to preserves plants health, even keeps it's edge cut after cut.
5. Pruning Shears
Pruning shears are also known as hand pruners since they are tiny and are operated by one hand. They are lightweight, portable, and much safer to use, unlike most cutting tree branch tools.
However, you will need to cut tree limbs from a ladder because you can't use it while your feet are on the ground. Regardless of their size, pruning shears are strong as they can handle hard branches from small trees.
6. Hedge Shears
Hedge shears are a little similar to loppers as they are also operated by both hands, although there are motorized models that work with a cutting mechanism.
These are good for cutting lower branches off trees, and they are also perfect for trimming off thick leaves. Manual hedge shears are affordable, although motorized models are quick and tend to reduce the amount of time spent trimming branches.
ARS HS-KR1000 Professional Hedge Shears
Superior steel and blade treatment for unsurpassed cutting performance

Long lasting sharpness ; Pivot bolt for blade adjustments

Perfect shape and balance for continued use

Replaceable blades

Superior durability for continued professional use
7. Pruning Saw
A pruning saw is usually operated by one hand, and it will require you to get close enough to the limb to saw through it. You will have to use your strength will getting the blade through the branch.
Using a pruning saw is not as quick as cutting tree branches with a chainsaw as it is a branch-cutting saw that would remain in the branch you are cutting until you manually get it through with enough strength from your upper body.
Buyplus Manual Pruning Pole Saw – 12 Foot Hand Pruning Saw for Tree Trimming, High Reach Tree Pruner with Extension Pole
【Widely Application】 - 3 to 12 foot 2 in 1 manual pole pruner, practical and multifunctional. Buyplus 19inch pole saw head replacement can be used as a telescopic pole saw for pruning high limbs or branches or as a hand-held saw for pruning and grooming lower branches, brush, and logs.

【Steel Pole Saw Blade】 - Buyplus 12inch 3X sharpened tooth is made of premium carbon steel with strong cutting ability, lightweight, durable and rust-resistant. Non-stick blade coat prolongs its working life and ensures a smooth cutting and pruning efficient, save your effort and time.
8. Telescoping Pole Saw
Using a ladder can be very dangerous when cutting or trimming tree branches. For this, most people prefer to use tools that will allow them to cut the branches while their feet are on the ground. A telescoping pole saw is what you will need if you want to have the best tool for cutting tree branches while on the ground.
A telescoping pole saw will allow you to increase the length of the tool so that you can reach those higher branches without the need for a ladder. It is usually a pole saw fitted together with a telescope that you can do for other tree cutting tools that feature the lock mechanism.
Oregon Cordless PS250 8-Inch 40V Telescoping Pole Saw with 6.0Ah Battery and Rapid Charger
Starts instantly, so you don't have to deal with the hassle of pull cords or wait for the saw to warm up

8 inch bar has a compact cutting head which allows you to reach far away branches and gives you better balance

Extendable reach – You can extend the shaft up to 10.1 feet and reach up to 15 feet from the ground

Ergonomically engineered to be light-weight, balanced, low-vibration & quiet

Instant Start - Freedom from cords, No gas-oil mixing, No pull cords, No warm-up, No emissions
9. Battery-Operated Pole Saw
A battery-operated pole saw is a cordless portable and lightweight tool, making it easy for you to hold it above your head without the worry of cutting the cord while working. This tool can also be used when dealing with higher branches. If you need it to be among your favorite tools to cut tree branches, then invest in one that has a longer-lasting battery.
10. Electric Pole Saw
If you are looking for electric tree trimming tools, then the electric pole saw should be among your choices. This tool can also be the best for cutting tree stumps if you invest in a good model. The best electric saw for cutting tree branches usually out power any other tool as they are quick, portable, and easy to use, unlike their counterparts.
An electric pole saw will not fail or stop working because the battery is low, plus it is quiet during operations and very easy to keep away for another day.
WORX WG309 8 Amp 10″ 2-In-1 Electric Pole Saw & Chainsaw with Auto-Tension
UP HIGH OR DOWN LOW: It's really 2-tools-in-1: A pole saw for trimming branches from trees, and a regular chainsaw for projects on the ground

POWERFUL MOTOR: At 8 Amps, you'll get consistent performance and reliability from this streamlined machine

AUTO CHAIN LUBRICATION: The automatic oiler will always have the chain operating at peak efficiency, for faster, more controlled cuts

COMPACT & LIGHTWEIGHT: At only 10 pounds, this saw is designed to be held up high and to be maneuverable once it gets up there
11. Ergonomic Tool
If you are looking for the best tool for cutting small trees, you need to try an ergonomic tool. An ergonomic tool is designed to reduce the pain and the pressure you get as you use your hands to trim tree branches.
Ergonomic tree cutting tools come with features like soft rubber handles to allow you to have comfort as you work with them. They are the best choice if you have trouble holding things for a more extended period.
12. Anvil Shears
Tree cutting tools' names usually match with the way the tool looks or is designed. The anvil shears work with a crushing movement to trim thick dead material on a tree. They are less expensive compared to other branch cutting tools that we have mentioned.
However, these tools are not recommended if you will work with live branches as they may end up damaging the tree. Therefore, you will have to look at other options.
Felco Pruning Shears (F 31) – High Performance Swiss Made One-Hand Anvil Garden Pruners
ULTRA DURABLE: The premium pruning clippers are constructed of forged aluminum handles and hardened steel blades. All pruner components can be replaced in this dependable model

HIGH PERFORMANCE: Hardened steel blade and screw-mounted anvil blade ensure reliably clean, precise cuts. Narrow pointed anvil blade allows easy access to twiggy branches and assures a close cut to the trunk

FOR LARGE HAND: The Swiss-made plant cutter is optimal for large-sized hands. The small branch trimmer has an 8.3 inch (210mm) length, 0.98 inch (25mm) cutter diameter, and has a 0.5 lb (225 gram) weight
13. Pruner Combo
A pruner combo is the best choice if you can't make up your mind on whether you want a tree pole pruner or a pole saw. A pruner combo will offer you the two-in-one tool as it is adjustable to fit your trimming desires that can be met by either tool.
This tool will ease and allow you to work nonstop without the need to stop and get a different tool throughout the job.
14. Bow Saw
This is another manual tree trimming tool that is commonly used by many folks. It works by you rocking it back and forth on the branch that you want to cut. A bow saw is very easy to use. It is straightforward; you don't necessarily need to have any experience using it but instead follow the safety recommendations as you use it.
Bahco 10-24-23 Bow Saw with Ergo Handle, 24-Inch
Designed for demanding applications and tough environments of construction sites

Innovative tensioning mechanism for high blade tension and straight cutting

Ergo handle with knuckle protector provides comfort and safety
Frequently Asked Questions
Q: What Is The Best Tool To Cut Tree Branches?
A: The best tool will depend on what you are working with, the size of the tree, whether the branches are dead or alive. This way, you will be able to get the best, and our list has all the tools for you to consider.
Q: Which Tool Is Used For Cutting The Trunk Of Trees And Their Branches?
A: You can use a chainsaw to cut tree trunks as well as tree branches. Also, you can use pruning shears that give your branches a good look.
Q: What Do You Use To Cut Thick Branches?
A: You can use either of these tools, a chainsaw, an electric pole saw, a gas-powered pole saw, and even a battery-powered pole saw. A pruning saw also works well to cut thick branches.
Q: What Kind Of Saw Is Used To Cut Tree Branches?
A: You will need a saw that will handle the type of tree branches you have. If they are thick, then an electric or chainsaw can do or are not too thick; any saw can work for you.
Q: How To Cut A Vertical Tree Branch
A: If you want to cut a vertical tree branch, start by cutting from the branch bark ridge and then cut slightly away from the branches. If the diameter of the branch is less than an inch, start cutting from behind the branch collar and 45-60 degrees.
Q: How To Cut Branches From A Tree?
A: you can cut branches from trees with looping shears. They are suitable for branches with a diameter of two inches. You can also cut tree branches with the cutting tools we have mentioned.
A: To do this, you need to use a ladder to reach such places. You can use tools like a pruner, pole saw, pocket saw. If you don't know how to do it right, seek help from a professional.
Final Thoughts
That concludes our guide on the best tools for cutting tree branches, and we hope you can select one that will help you get the job done. Don't waste money on a professional, but rather invest today in any of these best tree trimming tools and start saving. Remember to always stay safe by following the safety recommendations as you trim your branches.