Is your crazy best friend finally getting married? Or have you and your fiancé decided to tie the knot? Perhaps, it's the wedding of a family member. Weddings are special. It's a day of joy and celebration shared with your loved ones and your one and only. Special days demand special gestures.
Whatever the event or reason is, we all know one thing. Nothing says 'I love you' like personalized wooden gifts. DIY gifts are very thoughtful and enticing. They express your feelings in the way no other expensive gift can. Yet, you can't make a loose decision.
It's important that the receiver likes your gift. If you know the personal preference of the person, it makes the decision simpler. Even if you don't, we have a solution. To make things easier, we have shortened a list of the top 21 personalized DIY wooden wedding gift ideas for couples. Let's get crafting!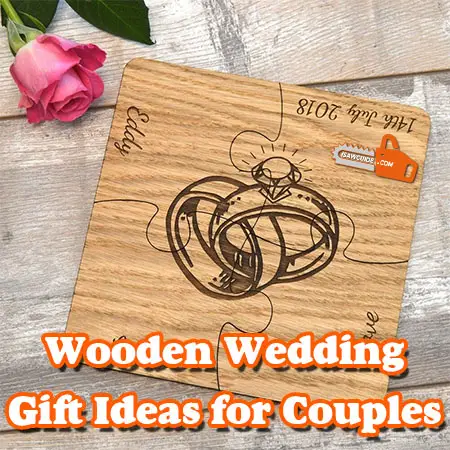 21 Personalized DIY Wooden Wedding Gift Ideas for Couples
Whether you're a son, friend, or partner, here's a list for your best options.
1.  Personalized Wooden Wedding Rings Holder
Ring holders are an essential part of any wedding ceremony. Even after the wedding, many people still use them to preserve their rings. Today wedding rings holders are becoming custom wooden gifts for brides or grooms. It's a great gift to give to your brother or sister on their wedding day.
2.  DIY Wooden Couple Sculpture
Ever since Disney came to life, it has set the bar for romance quite high for today's husbands. You have to think out of the box. This DIY sculpture is one of the best wooden gifts for her. It's not only cute and romantic, but it also expresses the time and thought you spend on your beloved.
3.  Wooden Handmade Snow Globe
Is your best friend having a Christmas wedding? Traditional holidays and weddings often tend to clash. You're caught wondering if a regular Christmas gift for the wedding the right way to go. The simple answer: It is. This handmade snow globe is sweet and warm. Your newlyweds will be glad to hold this lovely little home in their hands.
4.  Hand Carved Wooden Eternal Love Sculpture
Abstract arts are mysterious and intriguing. This 'Eternal Love' wooden statue is an intricate illustration of a loving embrace. This gift on your big day will become a beautiful memory. The one you can remember forever whenever you look at it.
5.  Wooden Swan Love Sculpture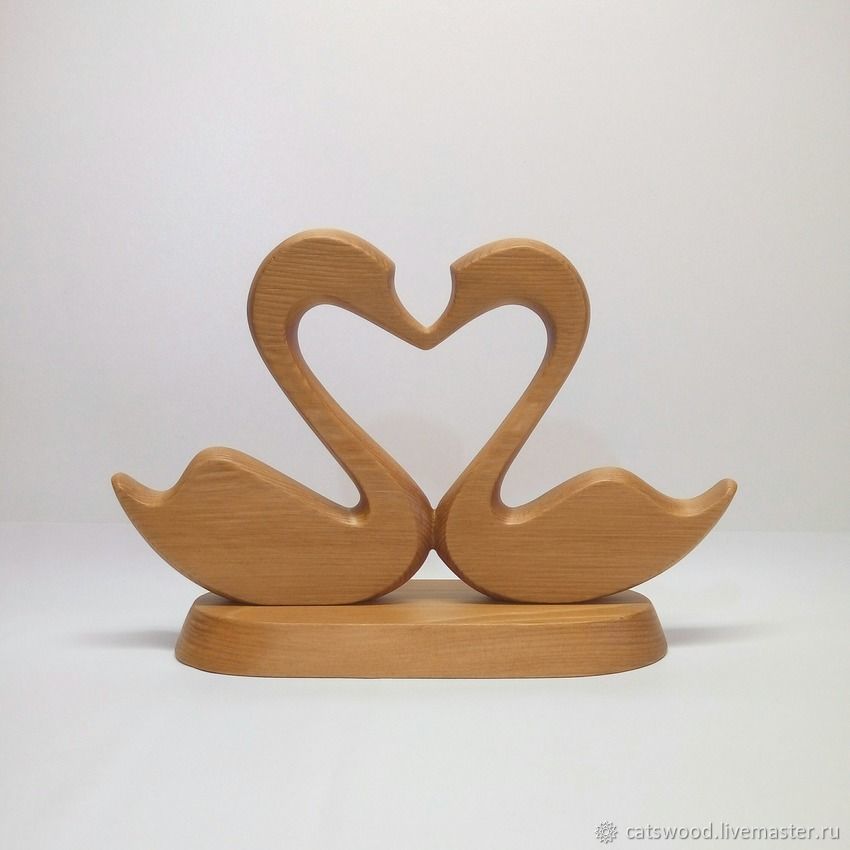 Swan love is said to be so deep that they mate for life. It has been a focus of literature and art over again. A 'Swan Love' sculpture is one of the most romantic wooden gifts ever. It is a perfect way to show your lover how deep your love runs for them.
6.  Couple Sculpture Wood Fret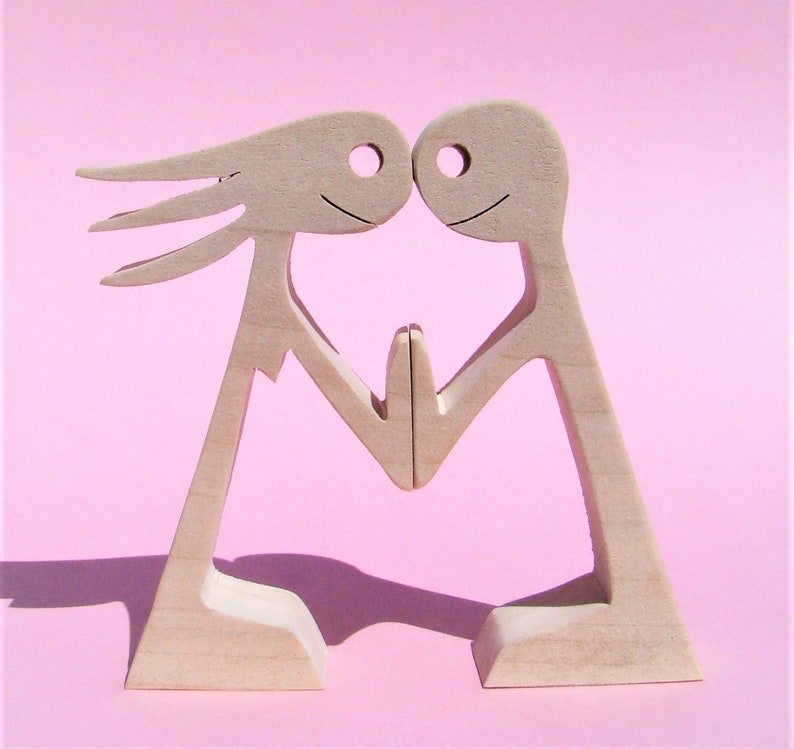 When it comes to wedding gifts for couples, the first word you think is 'romance.' The couple wood fret is an exquisite and unique present. You can carve them into many sculptures. Their cartoonish appearance is tasteful and beguiling. Your friends or family will love to own one of these.
7.  Wedding Guardian Angel Wooden Sculpture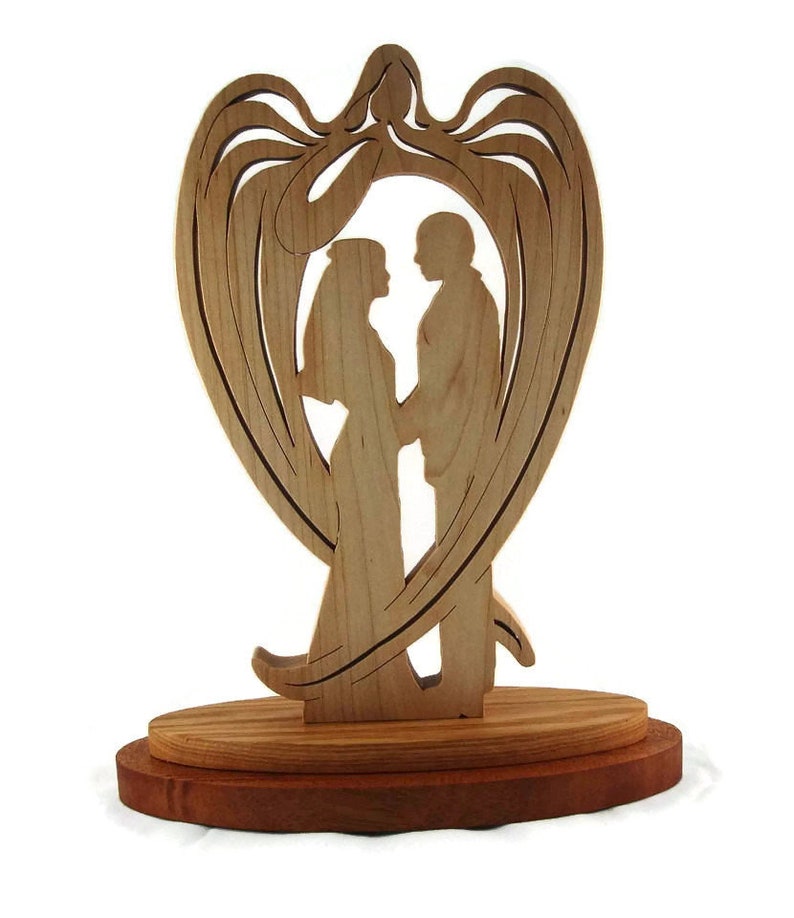 Whether it's wooden gifts for your wife, husband, or even someone you know, this one is a stand-out. This sculpture is a depiction of your big day under the protective wings of a guardian angel. It's a beautiful and subtle way to express your best wishes for the other.
8.  Name and Date in Hearts Wooden Engraved Wedding Gifts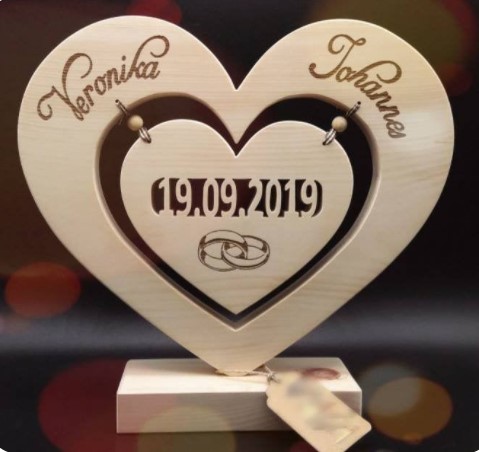 Hearts are forever acknowledged as romantic and heartwarming. They're perfect for an occasion like weddings. It is one of the best wood gifts for couples. They can place it on their work table or nightstand. The names and dates in the hearts will always remind your couple of their special day.
9.  Sleek Name and Date in Hearts Wood Sign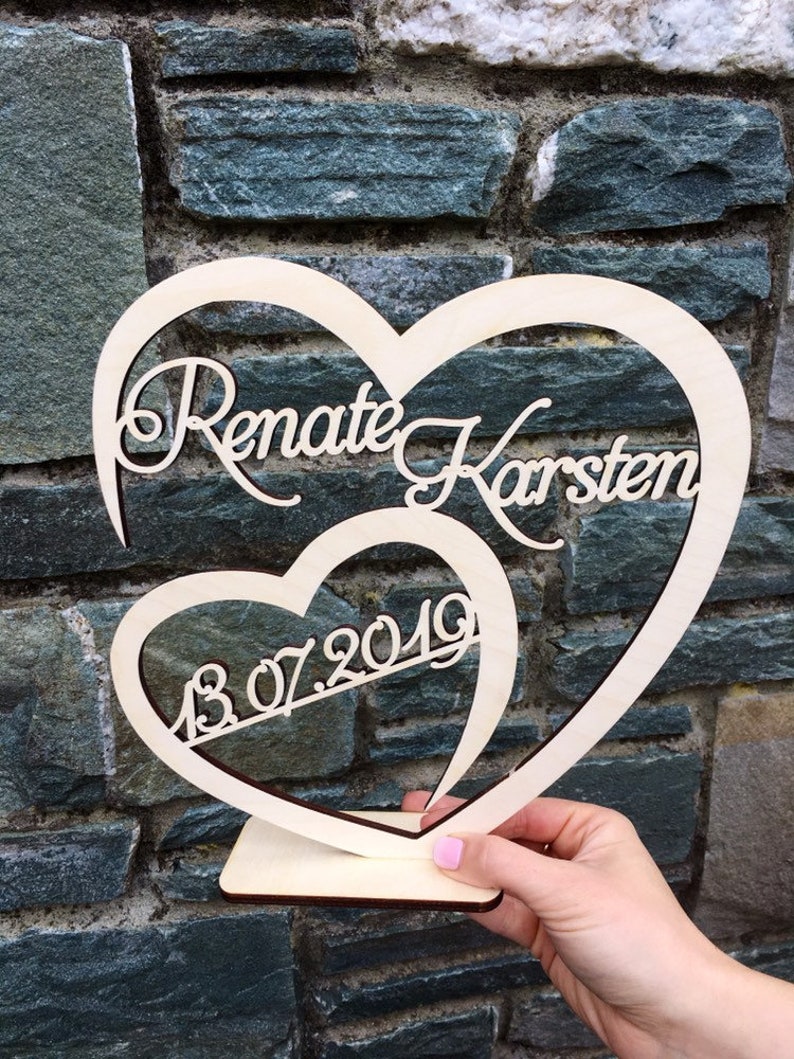 This name and date in the heart sign are stylish and sleek. If you are looking for rare wood carving gift ideas for couples, this is the one for you. It's more than a shelf decoration. It's a memory. Besides, it will help them remember the anniversaries.
10. DIY Love Candle Holder
Candlelight dinners, romantic baths; there's a long list to go when it comes to candles and romance. Today, candleholders are quite trending. There are several candleholder choices. Hearts carved into them sprinkles a wedding touch. These small wooden gifts have an identity of their own.
11. Wedding Wood Card Box
You may think a card box becomes unnecessary after the wedding, but that's not true. A card box is a great keepsake for your newlyweds. It is one of the easiest wooden gifts to make. With the diverse styles and colors you can use, this box can be a masterpiece.
12. Save The Date Personalized Wooden Magnet
Are you looking for a pre-wedding present for your folks? This save-the-date is fun and creative. Your parent would love it. It will remain on their fridge until and after the wedding as a reminder of their big day. This makes it an excellent option among wooden gifts for your dad or mom. A friendly suggestion, however. Cherry wood is the best material for it.
13. Wooden Wedding Rings Bearer Box
Men are not the only ones giving gifts these days. The bride has a lot to do, but it wouldn't hurt to make some time for your husband. The wooden wedding ring bearer is a keepsake that you both would love. You can carve your wedding date on it. It's one of the loveliest personalized wood gifts for him.
14. Wooden Heart Flower Vase
Flowers are a symbol of passion and sincerity. After being obsolete for over a decade, vases are becoming reclaimed wood gifts. They are pleasant and proper, which makes them an ideal formal present. If you're attending a relative or a colleague's wedding, this would be the best option for you. They have a wide range of shapes and colors.
15. Wooden Shelf Heart Sign
Home décor never gets old. Hearts add their flare to it.  Whether it's your friends or family, they would love to have this object in their living room. This decoration makes a great wedding gift. It fits in with the rustic beach theme.
16. Hanging Heart Sign Wooden Craft Gifts
A white heart represents purity and loyalty. This wall ornament is pretty and warm. A new beginning with a symbol of their true-blue love is just what they need.  It is a wonderful choice for your couple's home.
17. Nightmare Before Christmas Personalized Wooden Wedding Gifts
Oh, good old Jack and Sally! Who doesn't remember them? This adorable couple stole everyone's hearts in the early nineteen-nineties. This quote from the ending song of 'Nightmare Before Christmas' is a fascinating gift. It's not only vintage and creative, but it's also so very romantic.
18. Infinity Name Table Wood Signs for Wedding Gift
'Infinity' means endless. It has taken over tattoos and art for a long time now. This wooden infinity symbol with the couple's names on it is beautiful and meaningful. It's mnemonic for their everlasting love. This is an unforgettable present for the bride and groom on their wedding day.
19. DIY Wooden Wedding Coaster
Like all traditional kitchenware, coasters are also used for more than dining. DIY wooden wedding coasters are prehistoric and conventional. The newlyweds' names on it give it a whole new meaning. The vintage illustrations are extraordinary.  It's a memorable yet semi-formal present for your colleagues or relatives.
20. Personalized 'And They Live Happily Ever After' Wood Keepsake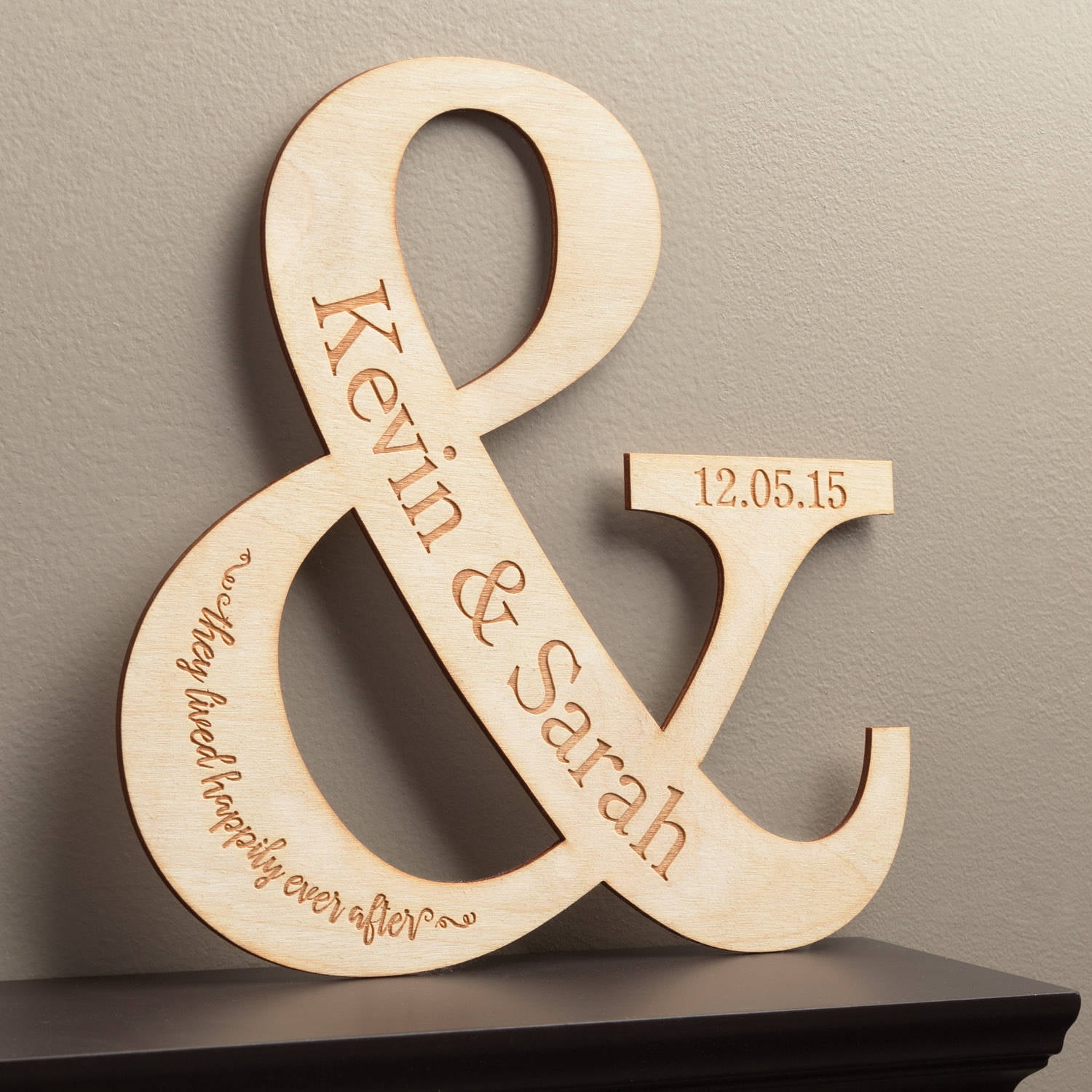 When it comes to wood carving gift ideas, and you're bored of the lovey-dovey sculptures, you're often stuck. This '&' shaped keepsake with 'happily ever after' scribed on it is a great choice. It is a fun way to show your friends that their love will have a happy ending. It's novel and quirky in a way that will conquer anyone's hearts.
21.Wooden Wrist Watch for Men
Wooden gifts for men are hard to come up with. Women often struggle to choose among their options, especially in DIYs. Wristwatches are a classic men item. They never go out of style. This stylish wooden watch is an outstanding present for your spouse-to-be. The handmade box is an excellent addition.
Final Thoughts
There you are. You have the top 21 DIY wooden wedding gifts. Your choices are not limited to these, of course. We hope they helped jumpstart your creativity, though.
May you have an enchanting wedding and a love that lasts a lifetime.
You May Also Interested to Read:
To Learn More About Woodworking and Carpentry Visit at iSaw Guide Home.