So, you have decided to start woodworking, but you don't know where to start. The first thing, of course, is to build yourself a tool arsenal. It is going to contain all the essential tools you will need for carpentry and other similar projects.
I am here to help you out, today I will be showing you 21 essential woodworking power tools for beginners. This list is going to contain the essential power tools for woodworking. These 21 tools are the carpentry power tools you will need.
To make it easier, I have divided them into categories so that you know which tools belong where. There are five categories of carpentry tools; cutting, finishing, holding, assembling, and measuring tools. Let's start with the cutting tools.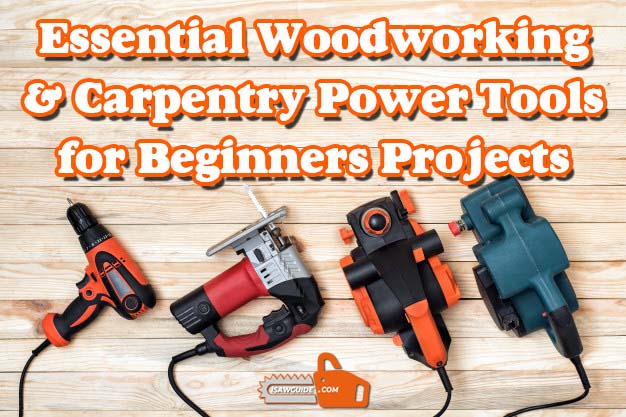 21 Essential Woodworking Power Tools for Beginners Carpentry Work
Cutting Tools
For most woodworking projects, you will need to cut some materials. You can have them cut commercially but doing it yourself is the better alternative. Saws are the most common tools in the woodworking tools list. There are different types of saws and they include;
1. Circular Saw
This is the first in the essential woodworking tools for beginners list. It generally has a circular blade with sharp teeth. This is an electrical tool that tears through the wood. You can use the circular saw for rough carpentry as well as fine woodworking and still get straight clean lines.
They come with different blade types; the ripping blades for cutting materials lengthwise, the crosscut blades for sawing across the grain, and the combination blades which are good for both crosscutting and ripping.
2. Drill Press
You might think you don't need a drill press since you already have a drill, well think again. The drill press has a flat table that allows you to drill straight holes with great precision and without getting tired. It has different speeds and drill bits that you can swap. It is good if you have a lot of wood to drill.
3. Miter Saw
A miter saw is good for you especially if you want to start building basic projects. You can use this saw for making repeatable angle cuts and crosscuts.
A compound miter saw allows you to make compound angle cuts and bevelled cuts. It is good for furniture making, remodelling, trimming, and other DIY projects.
4. Radial Arm Saw
The radial arm saw is a simple device that you can use to cut a lot of wood and quickly. It's accuracy is going to depend on you. Although it is not very accurate, it can cut a lot of wood faster without fatigue.
5. Jigsaw
Much like the famous puzzle, the jigsaw is for cutting curves. It is more manoeuvrable than a band saw and it is also cheaper. You can get either a corded or a cordless design for flexibility.
You can use the jigsaw for making straight, curved, or serpentine cuts. Its blades come with different teeth numbers and can cut metal, plastic, and wood.
6. Scroll Saw
The scroll saw is a small machine that is used to create wood ornaments and cutouts. It performs with great precision and you can use it for making designs. It is also quiet and doesn't produce a lot of dust.
7. Table Saw
This is also another tool that fits into the carpenter tools kit. It is at the centre of any woodworking shop, beginner or advanced.
This particular saw allows you to make precise cuts that you wouldn't get with any other tool. You can also make rips cuts and resaw lumber using it. Do you know there are how many types of table saw? There are of three types;
Benchtop table saws- these are light-duty and portable for portability
Contractor table saws- they are bigger than the benchtop and are economical.
Cabinet table saws- this type of table saw is heavier and isn't portable. It is suitable for all-purpose work and is good for beginners.
8. Band Saw
This type of saw is for ripping rough stock and making curved cuts. This power tool is a combination of a circular and a saber saw. The size of the saw you get will depend on the size of stock to be cut and how intricate the cuts you want to make.
9.

Reciprocating Sa

w
A reciprocation saw is a powerful cutting tool. It has a long blade that goes up and down to cut through wood. It makes cutting thick pieces of wood easy and fast.
10. Router
The router is for hollowing out holes and dadoes, making decorative patterns, and cutting out fancy edges. It comes in two types; plunge and stationery. You should have both of them in case the need arises.
Shaping, Smoothing, and Finishing Tools
This category deals with tools that you will use to plane and sand wood for giving it a refined look. These tools include;
11. Bench Grinder
A bench grinder is simply a grinder attached to a bench. It is used for sharpening tools. Instead of wasting time sharpening objects, use this grinder to sharpen all tools quickly and easily. It is also easy to maintain.
12. Surface Planer
A surface planer is a necessary tool to have if you are planning on undertaking milling and squaring rough lumber. Aside from the mill and square function, the surface planer also reduces the thickness of a board. It is aggressive with wood so if the board you want to use is bowed or curved, you should use a jointer first.
13. Random Orbital Sander
This tool makes sanding easier and faster. A corded orbital sander is better than a cordless one as it offers little interruptions. This saw doesn't circulate and leave marks but it oscillates in a random manner that leaves the wood surface smooth and free of marks.
14. Sander
A sander is one of the most versatile tools you can have. There are many different types of sanders like the belt and the random orbit sanders. They all help in cleaning and polishing pieces of wood.
15. Jointer
A jointer is the tools that is going to help you have nice flat wood boards. The jointer straightens wood to remove bows and arches. Use a jointer if you want to have a flat plank. Use the jointer before feeding it to the planer.
16. Paint Sprayer
Gone are the days when you would have to spend hours painting your house. Using this paint sprayer, you can now make your finishing job easier. All you have to do is fill the canister with paint, connect it to a power source and let it rip.
17. Spray Gun
Much like the paint sprayer, the spray gun is also another tool you can use to get a film finish. It makes finishing more fun and fast. There is no more reason for you to hate spraying varnish and other finishing techniques, the spray gun is here to do it for you.
Assembly Tools
Once you are done cutting and smoothing your wood pieces, the next step is the assembling. For this, you will need precision joints that fit together and the right tools for assembling and fastening the pieces together. These are the best assembling woodworking tools to get started.
18. Power drill
Forget the traditional woodworking hand tools and embrace the power drill. These drills can be used for different reasons. Buying a power drill with different attachments makes the power drill versatile; you can use it for drilling holes and other applications.
19. Impact Driver
An impact driver is used to drive screws and bolts with power that is greater than what you would get from a regular drill. It has more torque for driving screws into hard materials, like hardwood. Impact drivers are exceptional when it comes to heavy-duty driving.
20. Screws And Screw Gun
Screws are among the woodworking hand tools starter kit. They are the best fasteners and are easily removable without disassembling the whole structure. To fasten them, you can use a regular hand screwdriver.
You can also take it a step higher and get a powered screw gun. The screw gun will make driving the screws a faster and simpler job. There are cordless designs that are cordless making them convenient.
21. Nail Gun
No woodworking job is complete without nails. Nails are what most people use to hold pieces of wood together. This is a powerful and quick way to punch nails into your pieces of wood. Make sure you don't hurt yourself when using it.
Conclusion
These essential woodworking power tools for beginners mentioned here don't even begin to cover the array of power tools you will need, but it's a start. The above 21 tools are the top woodworking tools you will need and use for the different carpentry applications. You should have them when beginning woodworking kit to make the work easier.
These woodwork tools for beginners are must have woodshop power tools that every beginner should have in their list. You can use these tools for different projects and get excellent work. Equip yourself with these essential carpentry power tools for beginners and make your woodworking dream come true.
You May Also Interested to Read:
To Learn More About Woodworking and Carpentry Visit at iSaw Guide

Home.