Woodworking, like any other craft, comes with its own set of tools. These tools can either be power tools, those that require a source of power, or hand tools. Hand tools are the easiest to find, and you can even make some of them yourself.
So, before you start on your woodworking journey, which tools should you make sure you have? In this article, I am going to show you the basic woodworking hand tools for beginners that you will need to start.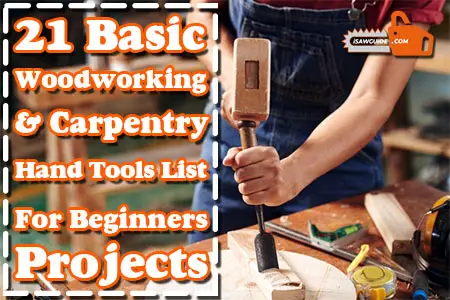 21 Basic Woodworking Hand Tools for Beginners Carpentry Work
These 21 tools are among some of the tools you will need to make sure you get the most out of your projects. They will make your work easier, and they are not even expensive, and you can make some of them yourself. Without wasting much time, let's get to it!
1. Claw Hammer
The first on the basic woodworking hand tools for beginners is the claw hammer. It is the most important out of all the hand woodworking tools you could ever get. A claw hammer serves two purposes; assembling and disassembling. It is the first item you should put in your apprentice carpenter tool list because you will use it in most of your projects
2. Hand Chisel
The hand chisel is also another essential tool to have on your woodworking hand tools starter kit. You are going to use it for finishing your woodworking projects. You can use the chisel to smooth out all the rough pieces of wood to have a smooth silky finish to your designs.
3. Tape Measure
The tape also belongs to the basic woodworking hand tools. You are going to use it to make measurements, so you get the necessary. You will need the tape measure to make sure your measurements come out correctly. Get a retractable tape measure since it is easier to roll back up. Make sure the tape measure has accurate measurements to minimize errors.
4. Workbench
A workbench is necessary since it is where you will do most of your activities. You can purchase one, but if you have a tight budget you can just build a simple design yourself. A wooden workbench is better and easier to create. The workbench will come in handy when its time to say and plane your pieces of wood, and you should have it as one of your DIY woodworking tools.
5. The Level
Among the essential woodworking tools for beginners is the level or a couple of levels. You can get a small level if you want, but you can also get a bigger one that can deal with bigger projects. The level is going to make sure your pieces of wood are balanced. They normally have a bubble reading. It is going to help you check the level; horizontal, and plumb; vertical, balancing of your construction.
6. Jack Plane
The jack plane is a small size plane that you can use on your workbench. It removes rough stock, smoothens the boards, and joints board edges together for clear finishing. You can advance to the smoothing and jointer plane when you advance more, but a jack plane is a good tool for beginners.
7. Moisture Meter
The moisture meter belongs to every beginner's guide to woodworking. The moisture meter is going to help you check the moisture content levels on the pieces of wood. Dry lumber is what you need for successful carpentry.
Some moisture meters have a small pin that penetrates the wood to take the measurements while others don't. Whichever one you go for, make sure you have a moisture meter to get the correct moisture meter before using the wood.
8. Block Plane
Your beginning woodworking kit should also include a block plane. The block plane is good for trimming joints, putting chamfers on edges, trimming the end grain, and many other applications. It also makes it easy to cut difficult grain. Ensure you have this to make your finishing work easier.
9. Utility Knife
Among the traditional woodworking hand tools exists the utility knife. There are different kinds of this knife, but the best one is the one with disposable blades. You can use this knife to clean out joints or for scribing wood. Find one with a blade that retracts into the knife's grip for safety.
10. Framing Square
The other basic woodworking hand tools for beginners is the framing square. It belongs to the essential woodworking tools for beginners because it allows you to square up your projects. It is especially necessary for joinery, and it allows you to make square cuts on large pieces of wood.
11. Screwdrivers
Who doesn't know what a screwdriver is? It is one of the top woodworking tools, and you can find it in any woodshop; big or small. The most important kinds to have are the Philips and slot and the flathead, star drivers, and Torx drivers as well.
Make sure the one you get is made out of hard metal with a square blade for torque. There are many different screwdrivers for different applications, so you can see why it is an essential tool.
12. Coping Saw
The coping saw is among the lesser-known hand tools, but that doesn't mean it is any less useful. The saw allows you to make thin cuts on pieces of wood. You can use it for leveling when creating projects. It is especially good with smaller projects.
13. Sliding Bevel
The sliding bevel should also be among your woodworking tools to get started. You are going to need it for measuring angles. The bevel is adjustable for measuring different angles. You can also lock it in place when you want to mark an angle, saving you time, especially when you're measuring multiple angles.
14. Try Square
Yes, another square. The squares are the basics of woodworking, essential when it comes to measuring the stock. Use the try square to square your pieces for precise fitting of joints. Get a good metal to try square with measurements on the side.
15. The Layout Or Combination Square
It comes in two sizes; 6" and 12". The smaller one is more portable. You can use this square to mark square cuts on wood pieces. It has two sides one for measuring the length of the wood piece and the other for making straight, square cuts across the grain.
16. Torpedo Level
The torpedo level belongs to the tools for a small woodworking shop, and it is there for a reason. It is also one of the best woodworking tools. That is because you can use this tool for checking the level of wide things. It is versatile, and you can use it on plastic, wood, or even metallic materials. You can also use it to spread things apart.
17. Clamp
A clamp is also another of the basic woodworking hand tools, especially useful when it comes to assembling. There are many different kinds and you should as many as possible, like the C, F, and K clamps. They can reach into your work area to clamp things together. Smaller ones can fit into smaller spaces in the middle of your workspace.
18. Marking Gauge
A marking gauge is one of the carpentry power tools, although it does not need any power for it to work. It belongs to the DIY woodworking tools since you can make one yourself. You can use this for transferring a measurement over and over. It has a locking mechanism that ensures the gauge doesn't slip. It is necessary when it comes to building furniture, and you should make sure you have one.
19. Calipers
If you want to fine-tune your work, a pair of calipers is a must. It is there in the basics of woodworking. There are even digital calipers that don't leave anything to chance. They ensure you stay within the line of the project you're doing. Metal ones are better than the plastic ones because they are more durable. They have two sides, one side for measuring the outside of an object and the smaller side for measuring the inside.
20. Hand Saw
No woodworking hand tools list is complete without a hand saw. You can even take it a notch higher and get a pair of hand saws. Sure, you can get a power saw to do all your work, but if you want to feel the wood's response when you're working on it, there is nothing better than a hand saw. There is also the coping saw and tenon saw for the use. You can also use a dovetail saw and some Japanese saws to create a full woodwork arsenal.
21. Sanding Block
Bringing us to a close on the essential woodworking tools for beginners is the sanding block. The sanding block makes sanding easy, comfortable, and fast. It also helps you maintain a flat and wave-free surface so you can get a beautiful and mark-free product.
Getting or even making, a wooden sanding block is better than getting the plastic alternative. Some of these blocks are even padded to make them more comfortable. Invest in a good sanding block and see the difference you can get from using it. You will be more comfortable, and you will get the best results possible.
Conclusion
We have now looked at some of the basic woodworking hand tools for beginners. These are the most essential tools that you will need when starting a woodworking project. Before you venture into the world of carpentry, you should ensure you equip yourself with these tools to make your work simpler and more fun.
You May Also Interested to Read:
To Learn More About Woodworking and Carpentry Visit at iSaw Guide

Home.