There are quite several tools that you can use to make straight cuts, and a circular saw is one of them. Cutting straight lines can be tough, especially for beginners.
This is a skill that you need to learn so that you can cut straight lines correctly. While there are better tools for making straight cuts, knowing how to cut straight with a circular saw gives you convenient results.
So, if you don't have access to a table and you want to make some straight cuts, I will give you some tips on how to make straight cuts with a circular saw.
Follow these tips to help you make precise straight cuts on short or longer materials.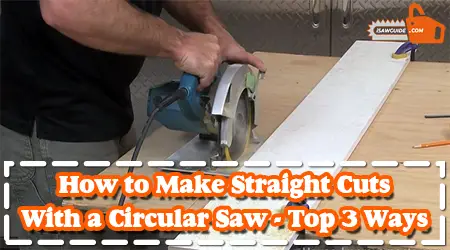 Top 3 Best Ways On How To Make Straight Cuts With A Circular Saw
We know that a table saw is best suited for making straight cuts. However, what if you work offsite, your budget is limited, or you own a small shop?
This is where a circular saw comes in. I'm going to take you through some methods on how to cut straight with a circular saw. These methods include the following:
Making Straight Lines Using a Guide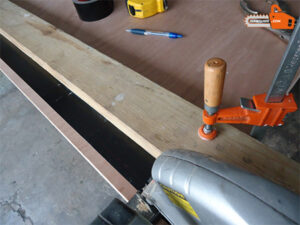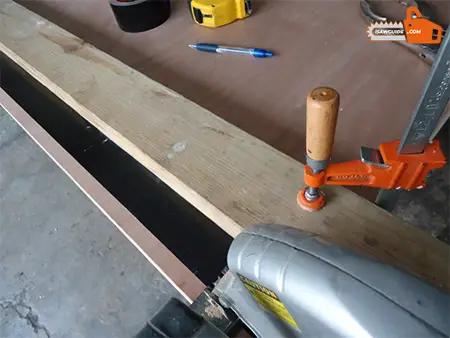 If you want to know how to cut a straight line with a circular saw, this method can work well for you. But if you have a board that is wider than 8 inches, it is excellent to make cuts using a guide.
Using this method, the first thing that you need to do is to set the board on scrap wood. This gives it good support to help you make cuts.
If you are making your cuts on the ground, make sure that your cutting material is high so that the blade doesn't touch the ground.
After doing that, take measurements on your board and mark the line where you will cut. You can mark around 4 points using dashes and then get a straight edge by joining the dashes.
Now it is time to make your cut. Line your tool perfectly on the line that you made and turn on the saw. Check to see that the blade doesn't touch the board before you start cutting.
Follow the guideline on the tool and ensure that the circular saw is on a level with the cutting material. Release the tool's power button while cutting through the whole board.
Using a DIY Guide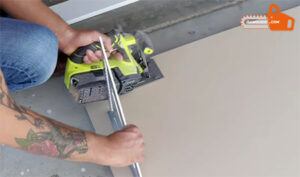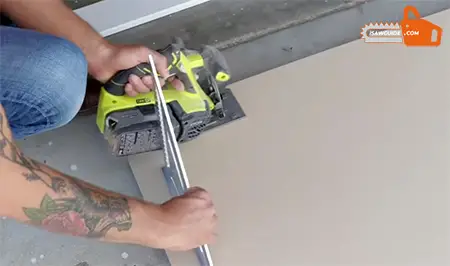 If you also want to know how to use a circular saw guide, I have some tips for you. This is a superb method to use when you are dealing with longer and thinner materials like plywood.
Making your guide is simple, and you need to have a straight board with the same length as the piece of wood that you intend to cut. On top of that, you require some clamps.
The first thing to do is to grip measurements of the distance that you intend to cut. You can mark several places and, just like the above method, join the dashes to come up with a straight line.
Next, take the measurements between the blade and the left edge at the bottom guard of your tool. In as much as the measurements are on guard, it is great to take your own for accuracy purposes.
At the edge of the board. Mark some dashes that are parallel to the line that you had drawn from the blade distance to the guard.
Hold your tool to the edge and check if the guard edge and the blade line up perfectly to the lines. If they are correct, mark a dash on the same distance on the other side of the board.
Using a level or straight board, clamp the board lining it with the dashes. This will act as your cutting guide. Hold your circular saw, ensuring that the guard edge is against your cutting guide when you are cutting.
The material you are cutting should be entirely supported to prevent falling or folding when using the tool.
I would recommend you to clamp the material on sawhorses to eliminate any movement when you are cutting.
Using a Kreg Rip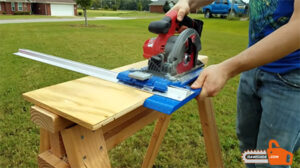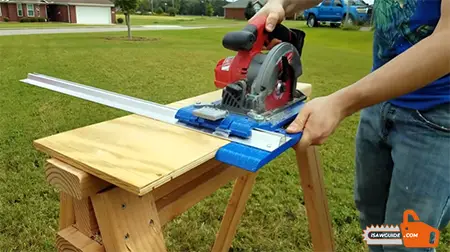 This is yet another method on how to cut a straight line with a circular saw. Using this method is simple, and you don't need to use a circular saw guide. The method works well, and it helps you achieve precise cuts.
Using this tool is ideal if you are making a wide range of cuts, so you don't have to measure and mark your piece of wood all the time.
All you need to do is to the guide with the measurements that you want and then line it with your board's straight edge.
You can cut up to 24 inches wide material with these methods. This means that you don't need to use a table saw to make straight cuts.
Cutting Straight Lines on Thick Pieces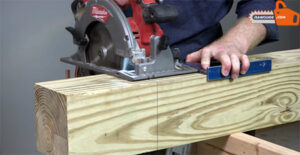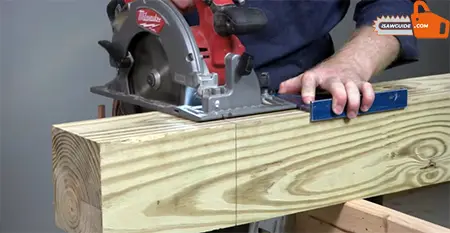 Learning how to cut thick wood with a circular saw is not a hard task because you have to follow the above methods that I have covered. The only thing that you need to use a sawhorse.
Clamp your piece of wood using a large workbench or a sawhorse. This provides you with the stability and safety that you need when cutting thick pieces of wood.
Next, keep your sawhorse comfortably in your work area and ensure that there is enough space to move well. Clamp your piece of wood using screws or nails on the parts that you do not intend to use.
The part that you will be cutting is on the side without support. After this, draw a line to cut using a larger ruler or a speed square.
These guidelines will help you achieve straight cuts using a circular saw. You can do this following these steps:
Mark the line well and ensure that it is straight.
You can mark the line using a long table on the one that you will be cutting. Use a pencil or marker to create the guideline.
Remove the top table before you cut to get accurate results when cutting thick wood.
After doing all this, the next step is to get ready for cutting. Place your tool on the thick wood. You need to follow the guidelines to achieve accurate and straight cuts.
Follow These Steps To Prepare For Cutting:
Place your machine closer to the wood. The metal frame should have pressure against the table. You can achieve this using three fingers or a thumb for a stronger grip.
Use your lead hand to hold the circular saw. 
Make sure that the handle faces backward or go behind the tool to achieve accurate results when cutting.
The blade of the tool should be in the other direction of your hands. If you are hands are distant from the edge, the better the results.
Apply some pressure on the piece of wood and don't turn the tool. The wood should be clamped well on the sawhorse or workbench for accurate cutting.
Now it is time to cut your thick piece of wood. Place your circular saw 1 ½ inches away from the material you want to cut.
Check to see if the blade of the tool is aligned correctly on the top of the table to give you a precise starting.
Make pressure on the hand that is on the handle and then turn the tool using the other hand.
Keep your tool close to the workpiece when the frame or shoe touches wood and then make pressure using the other hand. 
Ensure that your saw is well guided until the end to achieve better results. When you start cutting, don't stop until you are through.
Keep pressuring the tool against the material so that it doesn't slide off from the cutting guideline.
If it goes off, you can stop the blade and start once again around 4-10 inches back from the cut you had made last and make sure that your resume slowly.
One tip that you should remember is that making straight cuts on thick materials require precision.
Therefore, ensure that you put pressure on the wood to prevent any lousy cuts.
Safety Tips when Using a Circular Saw
When you are using any power tool, it is important to observe safety precautions to prevent accidents and other injuries.
When it comes to direct circular drive saws, the blade is located on the right side of the motor. Therefore, right-hand users need to lean over the saw when making cuts.
In warm drive saws, the blade is located on the left side. In both instances, it is easy to see the blade. Before you begin making your cuts, ensure that your cutting material is on a stable surface.
Securing It Properly Ensure That It Does Not Bind When You Are Cutting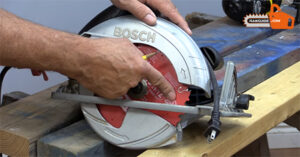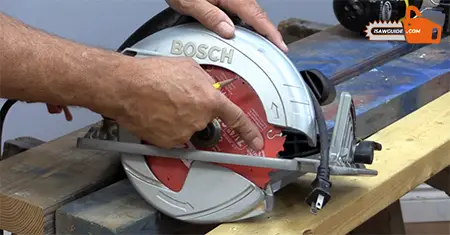 Another essential tip that you should consider is the cutting depth. Ensure that it doesn't make the blade to be more than a quarter inches below the bottom edge of the blade.
Circular saws have blade guards to protect your hands from the spinning blade. However, the blade can sometimes be trouble when it is caught, especially if you are cutting thin wood.
This forces you to retract the blade so that the tool can work. It is advisable to use the hand that is off to reach the bade guard.
Avoid Using Items To Prop It Open Because This Exposes Your Hand
If you are working with a corded circular saw, ensure that the cords and wires are away from the cutting area. And if you would like to make any adjustments, make sure that you turn off your tool.
Lastly, you need to ensure that you have the right safety equipment when you are working with any power tool. You need the proper clothing, hearing protection, and safety glasses.
All these protective gear will ensure that you are always safe when using a circular saw. They reduce the chances of injuries when you are handling your projects.
Frequently Asked Questions
Q: HOW CAN I REDUCE CIRCULAR SAW KICKBACK?
A: You can reduce circular saw kickback by using the right bade depth. Kickbacks are mostly caused by various things like cut-offs and incorrect depth.
Make sure that you set the right depths and ensure that you keep the cut-off well secure to reduce the chances of kickbacks.
Q: CAN I USE A CIRCULAR SAW WITHOUT A TABLE?
A: Yes, you can. If you don't have a circular saw table to hold your cutting material, you can clamp it.
Never hold the material using one hand while cutting using the other hand because it can cause severe injuries.
Additionally, if your material is not secured properly using g lamp or sawhorse, then you will not achieve accurate cuts.
Q: HOW CAN I ENSURE THAT MY CIRCULAR SAW WORKS WELL?
A: Several things will determine if our tool is working well. The most prime thing is to ensure that you get a tool with a quality blade.
In most cases, the type of blade that you choose significantly affects the performance of your tool.
Q: WHAT TYPE OF CIRCULAR SAW WOULD YOU RECOMMEND FOR DIY PROJECTS?
A: Well, I would recommend a track saw for DIY projects. This is a type of circular saw that features a built-in straight edge. These saws are expensive, but you can use the usual, jigs, and straight edges if you are on a budget.
Final Words
Learning how to cut wood straight with a circular saw needs you to have some skills to achieve accurate results. This task should not be tough if you know how to go about it.
I have provided you with some crucial tips on how to cut straight with a circular saw. Whichever method you choose, I'm sure that you will find it easy to make straight cuts on your materials.
Most importantly, make sure you observe safety at work. A circular saw blade can cause injuries if you are not careful when working.
You should also wear the right gear like safety goggles to prevent dust and debris from getting into your eyes.
You May Also Be Interested to Learn:
To Know More About Woodworking and Carpentry Visit at iSaw Guide Home.