Hey! Are you tired of carving wood by carving knives and gouges? Are you thinking to give up manual carving methods and planning to buy a power-operated wood carving angle grinder? Believe me, you are reading the right content.
Whether you are a professional or hobbyist, in the next few minutes, you will learn all the important points about angle grinder for woodworking along with the right disc attachments.
So, without further ado! Let's explore the wood carving with angle grinder.
What Is An Angle Grinder For Wood Carving?
Angle grinder for woodworks is a handheld power tool that has an abrasive disc attached as an angle grinder wood carving attachment. It is operated with electricity commonly.
It makes your commercial projects or your DIY project quicker and easier. The cutting quality and smoothness are out of the question. You will end up in some awesome masterpiece of carved wood.
Maneuvers of Angle Grinder 
Wood carving is most relaxing and satisfying either doing it as a professional or adopt it as a hobby. You can make your DIYs faster and as easy as ABC.
You can sand, cut, scoop out or remove the stocks easily. It is perfect for convex cut, concave cut edge, and plain out the surfaces with different attachment heads or discs.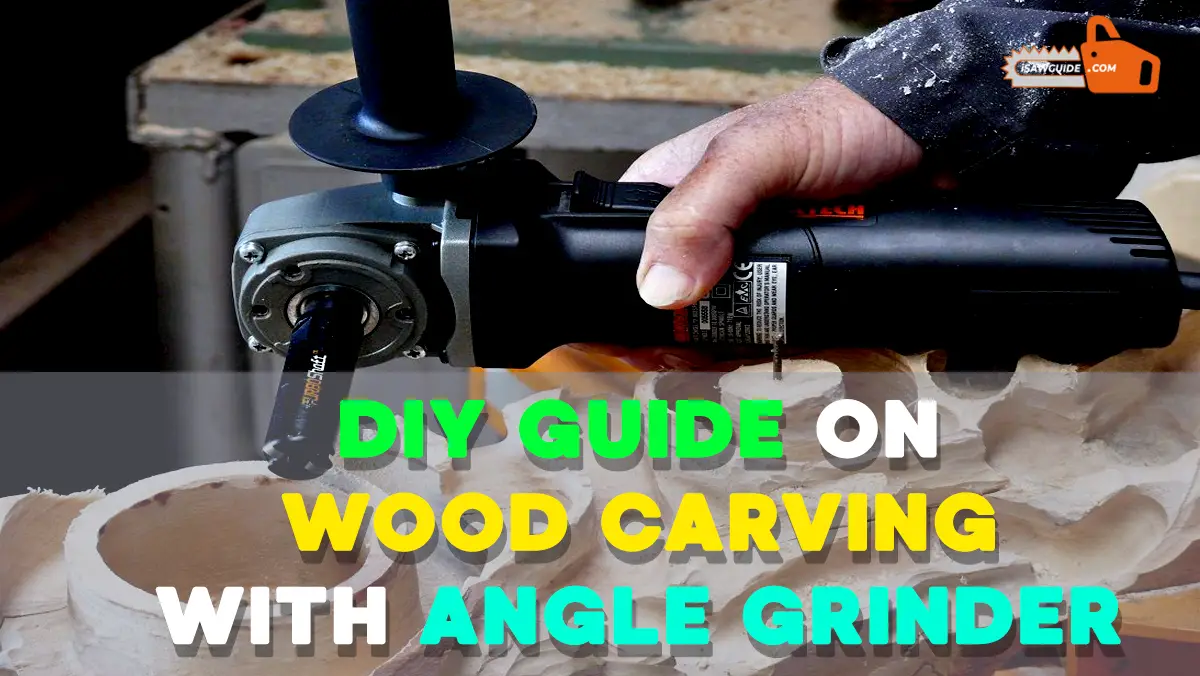 Attachment Heads 
When you enter into the aisle of angle grinder attachments and add-ons, you will feel as if your eyes and brain have been bombarded with millions of attachments and their makes.
Don't worry after going through this guide you will decide what to buy instantly.
Here I have listed some important and must-have tools for wood carving with their usage:
Arbortech Turbo Plane
It is a high-priced professional-grade disc used for cutting out the wood pieces and de-cluttering the stocks. You can do planning cuts, scooping cuts, and rounding cuts with the help of Turbo Plane.
It has a superb cut quality that allows you perfect concave cut, convex cut, and edge cut. But it needs high safety measures to use as it is not meant for beginners. But for professionals, it is a gift from heaven.
Lancelot Chainsaw
When you have a rough project to smooth out chainsaw attachment is the perfect one. It removes stock really very quickly. You will be going to get the job done quickly. It is a perfect 4 ½ wood saw blade for the grinder.
It is best for edge cutting because of the chain saw design. Its 14 tooth design makes the action faster and grabbier so it is not recommended for beginners for safety concerns.
Tool Cool 
It is an economical tool made up of manganese steel that makes it light in weight and easy to carry. The tool cool attachment has beautiful and efficient edge longevity.
It is superb for concave and convex cuts but not made for edge cutting. It is less aggressive and a good scooping tool. On that account, it is a high safety attachment that is quite maneuverable.
X Power 
It is really an economical design with carbide teeth welded on a steel disc. This attachment disc is perfect for scooping and chamfering cut. But it loses a point due to its compatibility issues.
It gives you a less smooth texture but you will get it in in no time. For your convex cuts, concave cuts, and wood chaffering; choose it without thinking twice.
Graff 
A one more saw blade design that gives you faster and perfect edge cuts. Its blade has a 1/8 curve design its performance is the middle of the road. Graff is good for cutting operations.
Its shape allows it a good concave cut and edge cut. But for convex cuts, it would be a bit challenging.
Kutzall
This beauty has small knobs made of tungsten carbide on it. It looks wonderful. Kutzall is a medium to high-performance tool. It doesn't remove stock like turbo plane but performs decently.
But its coarser grit works beyond one's wildest dream in terms of speed. Overall, it's nice for chamfering over and sanding. You can choose it for its superb sanding quality.
How To Do Wood Carving with Angle Grinder?
When you decide to do a DIY wooden project practice all safety procedures.
Always wear working gloves to avoid any accident.
Wear glasses to cover eyes from flying debris.
Match the attachment and power angle grinder's RPM. If a wood carving attachment has written 14000 RPM use it with the compatible machines that can work in harmony.
Choose wisely the woodcarving angle grinder attachment according to your projects.
Fix the disc properly.
Start the machine and let it get its full rotations and speed, once it gets its full speed start carving.
Hold the wood carving angle grinder firmly with steady hands.
Once you are done with the work let the wheel stops completely then place it on your worktop.
Always plug out when you take a pause or complete your work.
When changing the wood carving disc for the angle grinder always detach the plug or turn off the power supply.
Frequently Asked Questions (FAQ)
Q. How To Choose An Angle Grinder
A.  When you wander around the market to buy an angle grinder, always keep the following things in your mind. First of all, choose the disc according to your need.
Then go for the power and speed: it has great importance in wood carving. In the last, look for a handle that supports your grip to carve the wood perfectly.
Q. How To Use An Angle Grinder Step By Step
A. Follow a 3 step procedure to use an angle grinder.
Adopt all safety measures.
Match the attachment and power angle grinder's RPM. Choose the correct head attachment according to your use.
Fix the disc properly and always disconnect after use.
Q. Which Way Does A Cutting Disc Go On A Grinder?
A. Though it doesn't make a difference which way wood carving disc for angle grinder goes, it is preferable to fix the blade sticker side up.
Q. How To Cut Wood Straight With An Angle Grinder
A. When you want to cut the wood straight pick the angle grinder wood blade accordingly. Use a Lancelot chain saw attachment for straight cutting because this attachment has great potential for edge cutting.
Just hold the wood carving angle grinder upright at the angle of 90° from the surface. Here you go….
Q. How To Use An Angle Grinder To Cut Metal
A. For your projects that have some metal cutting you should select a 4 1/2 angle grinder. A 3 mm steel cutting blade can do this job perfectly whereas, for ultra-thin slicing pick a 1 mm steel cutting blade.
Q. How To Use An Angle Grinder On Concrete
A. A diamond cup blade is perfect to cut the concrete but what you have to take care of is your safety. Always use a vacuum dust collector and mask and eye goggles to stop the dust invading your body through the nose and eyes.
Final Verdict
To cut a long story short, you can get quick info by going through the following lines. To select the best angle grinder for wood carving always go for a at least 14 amp power motor. For large wooden pieces, a 115mm angle grinder wood carving disc is perfect.
For wood cutting 4 1/2 wood saw blade for the grinder is more compatible. The best grinder for carving wood is the one with the perfect attachment. Kutzall attachment is most efficient for angle grinder wood sanding.
You May Also Interested to Read:
To Learn More About Woodworking and Carpentry Visit at

 

iSaw Guide

 Home.