If you are a woodworker handling bigger projects, you will end up with many scrap plywood pieces in your workshop. They can be of different sizes and shapes depending on the type of project you are doing. What do you do with these scrap plywood pieces? Do you throw them away?
There are various creative things you can do for small plywood scrap projects. Not only will this help you reduce waste but also save money. You can use the scrap plywood for plywood art projects to minimize the pile in your workshop.
Read on to find 15+ plywood scrap projects for beginners you might be interested in trying.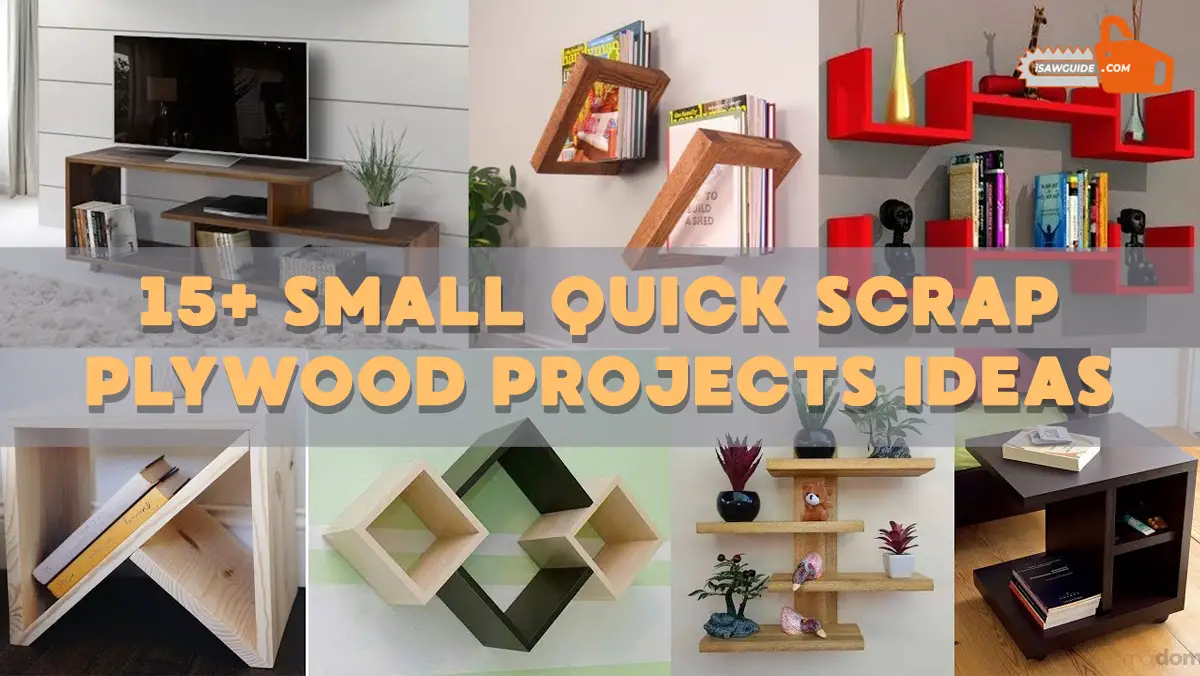 What Is Quick Scrap Plywood?
Before we get into details, it would be best if we understand what scrap plywood is. These are lumber residuals or pallets that are damaged or too small, making it hard to reuse them. You can use these pieces for quick scrap wood projects or choose to grind them to biomass or mulch.
Types Of Plywood And Its Sizes:
You will find different types of plywood that are used in construction projects. It also varies in size to suit your projects. Below are the types of plywood.
Softwood
This is a type of plywood made of fir, pine, cedar, or spruce. Soft plywood is good for roofing, walls, and floors.
Hardwood
This type works well in places where you need more structural strength since it is resistant to damage. It is made of mahogany, birch, or oak. One of the most popular hardwoods is Baltic Birch which is water-resistant, good-looking, and great for making cabinets.
Overlay
It is used to overlay a panel just like its name suggests. The plywood creates a smooth surface that is easy to paint. Some common woods that make overlay plywood include oak, maple, birch, ash, and mahogany.
Marine
The plywood is used for conditions where it remains wet for a longer time, like ships and outdoor cabinetry, among others.
Aircraft
This type of plywood is made of spruce, birch, or mahogany, and it can be used in aircraft construction and making furniture. It is resistant to humidity and heat, which makes it great for making musical instruments.
Bending/Flexible
This is made from a single veneer of tropical hardwoods, not true plywood. You can use it to make furniture, arched ceilings, and spiral staircases.
When it comes to plywood sizes, you can find them in various dimensions. In the US, the most common plywood dimension is 4×8 feet. However, you can still find 5×5 feet.  Other common plywood dimensions are 4×10, 2×4, and 2×2 inches.
The thickness of the plywood also ranges from 3/8 inch, ¼ inch, and 1/8 inch. When you are preparing your plywood, you might end up losing almost 1/32 inch thickness. Also, depending on your project calls, you can use various plywood sizes to meet your needs. These sizes can be s follows.
1/2 sheet plywood projects
1×2 scrap wood projects
2×6 scrap wood projects
4×4 scrap wood projects
Half sheet plywood projects
What Can I Make With Scrap Plywood?
There are so many things that you can make with scrap plywood. If you put in a little creativity, you can handle various leftover plywood projects. Some DIY projects you can do include making plywood letters, restroom cutouts, TV trays, and cabinet holders, among many more. I will give you more ideas below on scrap wood projects for beginners.
15+ Small Plywood Scrap Projects Ideas for Beginners
Are you wondering how you will make good use of your scrap plywood? I will give you some creative ideas that you can try. These top ideas include the following:
1. Under Desk Footrest
This is a simple DIY project you can complete in less than 30 minutes. You can make this footrest using scrap plywood pieces lying in your workshop. This ergonomic footrest is great to improve your comfort, especially if you sit in your workstation for too long. It will help you reduce fatigue, get better posture and eliminate discomfort in your feet.
2. Laptop Desk
This is another simple project you can do with a couple of plywood boards. This board gives you a better platform to put your computer, especially if you want to work on your bed. You can choose to give it a nice finish, stain or paint it.
3. Mail Organizer
You can make this product without the need for power tools. It is easy to make, even for beginners using scrap wood.
4. Storage Bins
Do you want to organize the pantry and vegetables perfectly in your kitchen? You can make some storage bins using leftover scrap plywood. These storage bins are versatile since you can organize many more items like toys or craft supplies.
5. Jewelry Organizer
Jewelry can get messed up if you don't have a convenient place to store them.  You can make a nice Jewelry organizer from scrap plywood which you can customize to your ideal design. You can choose how wide or long you want your jewelry organizer to be.
6. Plant Stand
If you love having plants around your house, you can make a lovely plant stand using leftover scrap plywood. Apart from a plant stand, you can also do other outdoor scrap wood projects to suit your requirements.
7. Serving Tray
This is another creative way you can make good use of scrap plywood. You can make a DIY serving tray which you can use to serve food and other drinks.
8. Plywood Boat
If you need some scrap wood projects for kids, building a boat over the weekend with your kids can be a great activity. When building your boat, ensure that you wait for the glue to dry overnight before heading to the waters.
9. Plywood Hand Truck
This is a convenient hand truck that will help with the heavy lifting around the home. It includes neat little plywood wheels that make this the perfect gift to yourself to relieve recurrent backaches from frequent heavy lifting. You can make it from a single sheet of plywood and it is quite sturdy and its small size makes it easy to store.
10. Plywood Stool and Standing Desk
These create a beautiful workspace, all from single sheet plywood. The workspace can be used while seated on the exquisite stool or while standing to provide you with all the added health benefits of a standing desk. This project requires hardwood plywood.
11. Plywood Playhouse
This piece is a fun little DIY project for kids. It saves you the trouble of having to buy a ready-made playhouse for your kids while giving you a fun project to work on. You can change the design to suit your preferences and additional accessories.
12. Rock Back Chair
This simple piece is a reclining seat that sways back and forth to give you a perfectly relaxed mood—a simple escape after an exhausting day. You can accessorize it with cushions and a little throw blanket. The chair is made from a single sheet of plywood.
13. Kids Storage Bench
This piece is also made from a single sheet of hardwood plywood. It doubles as a storage unit as well as a neat bench for kids. It thus maximizes space and may be used to store toys, books, or clothes. It comes with convenient sliding doors that create a neat way to organize your kid's room. This piece as well requires minimal technical skill to recreate.
14. Eames Chair
The renowned traditional Eames lounge chair inspires this chair. This modern variant requires a CNC Machine and a single sheet of plywood. After cutting the plywood, glue the pieces together with a mallet to ensure the pieces are affixed. It, therefore, offers a modern spin to the classic design and is made in the comfort of your home.
15. Plywood Doghouse
This piece provides a home for your beloved furry friend. It is made from a single sheet of plywood and is the perfect project to do out in the open air. It may be customized to suit the size of your dog. It could be a delightful project to build with kids. It is a fun substitute for overpriced doghouses and will have your dog feeling loved and right at home.
16. Closet Organizer
This piece provides an option for the storage of shoes and socks within your closet. The project requires a single sheet of plywood, some screws, and glue. The plywood is used to design shelves within the closet in which shoes or storage baskets can fit in. It creates additional organized storage space. It allows you to design storage space within existing closets.
17. Plywood Table
Ideally, birch plywood is used in the construction of this plywood table. It is easily constructed at home from a single sheet of plywood. It requires about a week for a beginner to construct this table. Thus, it is a fun, quick project that leaves you with a unique and home-crafted table with an interesting story to tell over drinks at parties.
18. Coffee Table
This table comes in a modern design that is easy to build from single sheet plywood. It has a clean, minimalistic design that would transform your space. It additionally sits on a base of four supporting legs. You can use it to store magazines or accessorize to brighten up the room.
Frequently Asked Questions(FAQ):
Q: How Do You Strengthen A Sheet Of Plywood?
A: One of the best ways to strengthen fiberglass is to make a plywood-fiberglass composite. This is essential when making boat decks where the fiberglass provides more stiffness on the plywood when you coat it on two sides.
Q: What Is The Best Tool To Cut Plywood?
A: There are various plywood cutter tools you can use when cutting plywood. A circular saw with a plywood cutter blade, or a skill saw are some common tools that work well when cutting plywood. However, you can find it tough to make straight and longer cuts if you don't have a guide or a jig. Alternatively, you can use a mini plywood cutter machine to cut plywood.
Q: Can You Make Furniture Out Of Plywood?
A: Of course! There are many plywood furniture plans free you can use to get ideas on making furniture from plywood. You only need a few materials and tools to come up with some quality pieces. You can make plywood desks, beds, and dressers, among other types of furniture.
Q: What Plywood Should I Use For Furniture?
A: The best plywood I would recommend for furniture making is poplar plywood or birch plywood because they are stronger. Additionally, they are reliable, which makes them the best option for making furniture.
Q: How Do You Make A Good Finish On Plywood?
A: If you want to get a smooth finish on your plywood, you need to prepare the plywood well before you apply the finish. You can sand the surface with 150-180 grit sandpaper. When sanding, maintain the sanding direction in line perfectly with the wood grain to prevent scars.
Q: What Type Of Plywood Is Best For Workbench Top?
A: The best plywood that you can use for the workbench top is sanded softwood plywood. Baltic Birch, marine-grade plywood, phenolic board, and Appleby. If you would like to make the top of your workbench on a budget, you can use softwood plywood. It can either have a tempered hardboard or MDF at the top layer, depending on what you like.
Final Words
If you have a larger pile of scrap plywood lying in your workshop, I believe you now know some cool ideas you can use them. We have covered 15 quick scrap plywood projects suitable for beginners and DIY enthusiasts. We have not exhausted the list; you can find plenty more ideas in the plywood projects pdf.
These scrap wood projects are quick and easy to make, and you can screw the plywood with cheap impact sockets. You can use the handmade items for home décor, organization projects, or gift ideas. You can choose which one is your favorite, and good luck as you work on your scrap plywood projects from the top list.
You May Also be Interested to Read:
To Learn More About Woodworking and Carpentry Visit at iSaw Guide Home.