Both for gifts or home use, the wooden hanging decorations are one of the best embellishments to experience the spirit of Christmas at home.
Fill the house with a range of fun having the best wood art design ideas for Christmas season for wooden hanging decors and feel the joy and excitement it brings to your family as it adds grace and beauty to your home.
They can be hung on the ceiling inside the house or the outside alleys mounted on the walls, doors, kitchen partitions, over the windows, stringed-up on garden trees, and in any part of the property where you want them to be installed.
For proper installation, you need the standard woodwork DIY tools and a telescopic ladder, which you can find at https://diyladders.co.uk/.
The wooden type of hanging decor is a practical choice to consider. Made out of the diligent and cautious process of the sculptors who have put their time and love into their work. They are practically lightweight, durable, inexpensive, and a fancy appearance of sorts. However, you can make your version of artwork if you love DIY.
This time I'd like to share some wood art design ideas for Christmas season which you can choose and which will certainly suit your desire.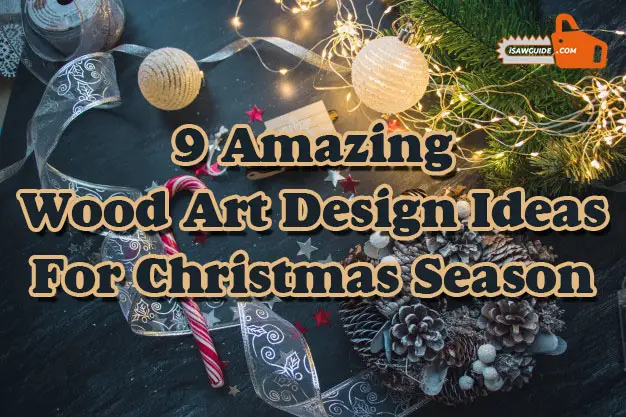 9 Exceptional Wood Art Design Ideas for Christmas Season
Wooden Snowflakes Kit
The unfinished wood chips are finely-carved into snowflakes that appear elegant. These snowflakes adhere to the theme of the Christmas and winter season, very perfect decoration for Christmas and winter parties.
As a fun Christmas treat, you can give these wooden snowflakes hanging-cuts to your friends, relatives, or others, and this unfinished DIY-flake ornament is also for use as gift-tags, complement with other decorative, card-making, and other artworks.
How to use: You may use a twine rope to secure these wood snowflakes hanging cut-outs in a range of colors, and then hang them on the Christmas tree or any decorations you choose, easy to work, easy to use, and easy to decorate Christmas-house during this holiday season.
Wooden Frame Wall Decor with Christmas Theme
A wooden frame wood art is the best choice for wall decorations such as living room wall decor, wall decor for bedrooms, guest quarters, bathrooms, dining rooms, study rooms, hallways, coffee area, patios, and other home spaces for recreation and relaxing.
A colorful and inspirational canvas wall-print has been crafted with a series of Christmas themes or Christmas Family Photos.
Wooden Ornaments for Christmas Tree
The DIY woodwork comes with multiple designs, such as multi-style mini-pendants, cut-out tree limbs, wooden house light decorations, Christmas miniature characters, and so forth. Wood ornaments are the perfect alternatives to synthetic or metal ornaments that offer a distinctive and natural look to craftsmanship.
Wooden Angel-shaped Cut-outs
These crafts are sculpted in the form of angels that can be painted and polished. You may draw designs or write words on them and then place them on the Christmas tree or anywhere you want in the house. You may prefer much bigger sizes perfect for ceilings and walls. Painted or added with a colorful blast of glitters then it's ready to use.
Rustic Wood Wall Art Designed with Christmas Symbols
Investing in a somewhat inexpensive and sophisticated rustic wood wall art can also be a good choice to compete with the trends. Examples are cardboard wooden frame art, carved scrap boards wood art, wooden sign art, wooden pallet off-cuts, abstract pattern wood frame, multicolored canvas wood art, minimalist artistic wall wood art, etc.
To make it fit for the season, simply cover the exterior with a Christmas symbol decorative or retractable Christmas arts.
Heart-shaped Wood Decor
Love is the message of Christmas. A decoration with heart shapes is undoubtedly the best choice for the yuletide season. A wooden heart-shaped box, wood chubby heart shape, printed heart form, close-up heart shape, engraved heart-shaped, and more are the examples.
The hanging piece is a perfect enhancement for Christmas trees, garden trees, interiors, and other locations you like. To produce a better effect, incorporate vibrant series lights. This decoration can be assorted into other ornaments for the upcoming Christmas celebration.
Hanging Art Mag
The wooden art mag hanging decor is perfect for your DIY shots. Easy and fun to make even kids would surely love it. The unfinished wood ornaments are made of high-quality real wood, laser-cut, and finished. Both sides are smoothly sanded, ready to paint, fashion, decorate, or leave it plain and simple.
It's healthy for children as an eco-friendly Christmas present. It is also ideal for making tags, signs, tree embellishments, cards, etc.
Painted Animal Wood Sculpture
The bright and colorful painted-animal hanging figurines are perfect for Christmas and other occasions on the home-wall. It is crafted through detailed and meticulous work to attain the animal's realistic-features to complement any home decors. It enriches more life to the environment that makes the ambiance lively.
Christmas Hanging Signboard Decorative
The traditional look of wooden hanging letters is a perfect decoration for a Christmas tree or wall. It is ideal for cards, tags, decorations, invitations, signage, and many other crafts works. The 'Merry Christmas" sign is the most common, simple, and meaningful.
It has become the centerpiece or decorative significance for the Holiday season. You may place it on your entrance doors, kitchen walls, and gates.
Significance of Using Hanging Wood Art
The wooden type of hanging wood art is ideally sturdy and environment-friendly handmade works of art compared to their counterparts. Generally, this unique and personalized artwork is simple to find and easy to maintain and fits well with other ornaments.
The great thing about wooden art is to be handy enough that it can hold tightly to the walls without damaging structures, and easy to string-up to the ceilings. It is ideal both indoors and outdoors since it can resist harsh environmental conditions.
Frequently Asked Question (FAQ)
Q. How Do You Make Wooden Wall Art?
A.  You need the following things to make wooden wall art. You can easily make amazing wooden wall art for the Christmas season.
1x2x8 common pine boards (or any wood) The number you need will be based on how large of a wood art you want to create. We used about nine 1x2s for ours.

1/4″ plywood (we used 

this 2×2 project panel

)

Wood glue

Pencil

Paint and stain (we used Minwax Early American, True Black, Dark Walnut, and Special Walnut stains)
Take Away
If you love the natural look of home decors, the concept applies to wood art. Embellish your house with wooden hanging art for a family get-together this Christmas. I hope you will be encouraged by what I just mentioned so that your holiday celebration will be meaningful.
You May Also Interested to Read:
To Learn More About Woodworking and Carpentry Visit at iSaw Guide Home.