Woodworking in an apartment is possible if you have the available space and the right tools. Most people do not consider woodworking because of the lack of space and advanced machinery.
It should never be a reason for anyone to despise woodworking as a hobby. In that case, I will take you through some tips on how to do woodworking in an apartment.
Step by Step Guide on How to Do Woodworking in an Apartment 
There are various things that one needs to do to carry out woodworking in their apartment. So, let's explore what you need to get started.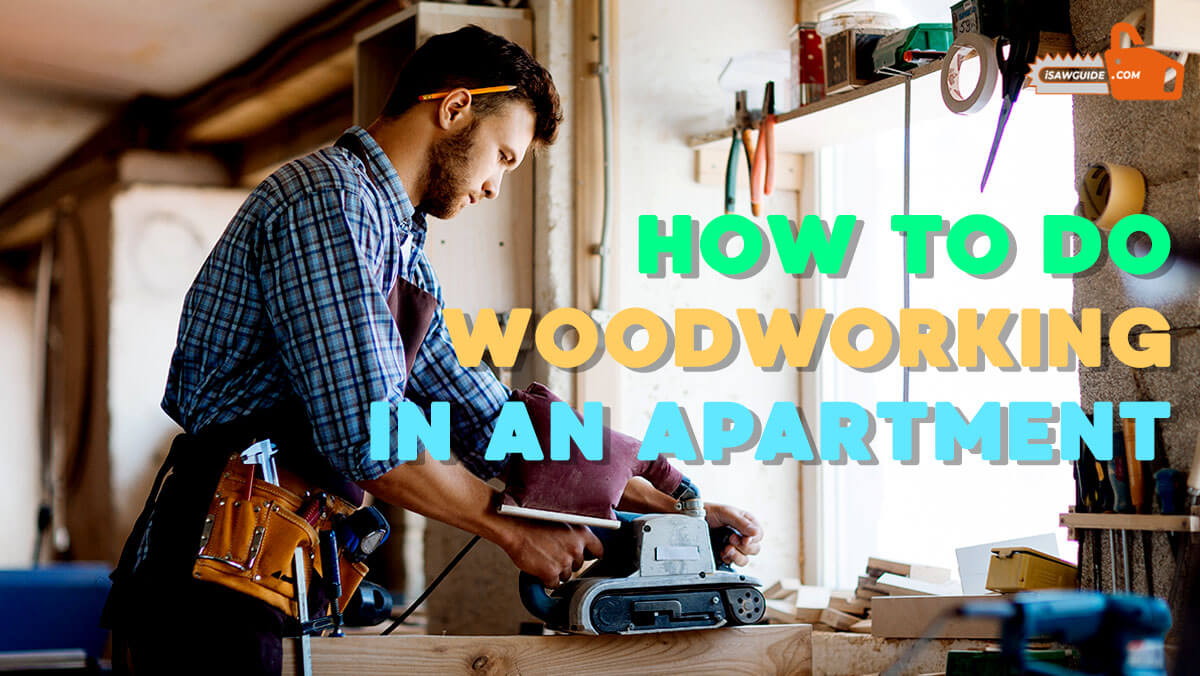 Create Your W

orkspace 
The first thing you need to do is finding a suitable apartment for your woodworking workshop project. A big apartment will provide enough space for your woodworks.
You can choose a well-spaced room and use it specifically for your woodworking. Some people set up their living rooms, balconies, extra bathrooms, and bedrooms as their working spaces.
Also, the backyard kitchen side is a good space for woodworking in an apartment. However, only use it when working on small projects such as dust bins.
Get the Essential Tools
Choosing tools for apartment woodworking requires some little expertise. Apartment woodworking tools are similar to DIY tools. Below is a list of apartment woodworking hand tools that you must include in your shopping list. 
When woodworking in a small apartment, buy a portable workbench to place all your tools. It makes the place look organized and prevents accidents. 
This tool helps in cutting, sanding, and grinding woods which results in fine cuts.
Cordless drills are the best drilling tools to get for apartment woodworking.
These are multi-purpose tools used for sanding, scraping, grinding, polishing, and cutting wood. Choose a device with essential blades and extra accessories. In case it lacks the blades, you can buy market blades for replacement. 
It is the best to purchase for apartment woodworking shops. They can easily fit in small rooms.
Miter saws are essential tools in woodworking in an apartment. It can use for straight cuts and angled crosscuts. 10 or 12 inch miter saws are the best for woodworking in an apartment. 
Jigsaw is used to cut wood in any style of your choice. You can use it in cutting bevels and stencils on wood.
Make the Room Soundproof
Apartment woodworking noise is not something that one can tolerate. The noise can annoy your neighbors or even the people you share your apartment with. Soundproofing the room will ensure that no noise or very little noise will leave the room.
Buy soundproofing panels and hang them around the walls of your workroom. It will absorb noise from the room.
Besides, an insulation sheet board is excellent for soundproofing. Cover the doors, walls, and windows with the sheets anytime you are working on your projects.
Use Laminate Flooring 
Woodworking produces a lot of dust. Laying laminate flooring on carpets prevents your carpets from getting dirty. To prevent the laminate flooring from sliding. Place the rubber mats or panels below the sheets. 
Carpet covering prevents small wood pieces or metal shavings from sticking on the carpet. 
How to Handle Dust
Woodworking dust can be disturbing, especially when working in a small room. You can buy a dust collector for woodworking in an apartment to minimize dust. Dust collectors always keep the air clean.
A portable dust collector is the best option you should buy. For maximum results, replace the filters regularly. Additionally, avoid using power tools as they produce large amounts of dust.
Use A Shop Vacuum Cleaner
Shop vacuum cleaners can efficiently clean dust particles from the floor. Unlike household vacuum cleaners, shop vacuum cleaners hold a large amount of dust and chips.
The ones with disposable bags and washable filters are highly recommended. Regular household vacuum cleaners should not use as the filters can clog hence reduce suction. 
Choose Custom Boards
Woodworking while living in an apartment tends to be complicated. Buying custom boards prevents you from the hustle of milling your lumber into the correct size. You can order custom boards from an online store.
Also, you can take your wood to any local lumber yard that will cut it into your desired sizes. It will cost you very little money. 
Carry O

ut Small Woodworking Projects 
If you do start your woodworking workshop with a large space, always work on small projects when beginning woodworking in an apartment. Getting large projects from the apartment is very difficult. Some might break, or you can be forced to dismantle the project.
Small projects such as stools, vases, chairs, and baby cribs can earn you more money. They are some of the best woodworking projects for an apartment. 
Frequently Asked Questions (FAQ)
Q. Can You Do Woodworking in An Apartment
?
A. Yes. It is possible. As long as you have the right tools and skills, you can do your woodworks in an apartment with available spaces. 
Q. Where to

Do Woodworking When living 

in An Apartment? 
A. You can start woodworking in various areas of your apartment. It is upon you to choose the fitting room and space for your woodworking activities.
Some people decide to move into an apartment with an extra room to set it as a workshop. Balconies, kitchen, additional bathroom, bedroom, or even the living room can act as your workshop.
Q. What Kind of Woodworking Can You Do in An Apartment
?
A. Go in for simple and small projects such as vases, chairs, baby cots, and many more small woodworking projects. Keep in mind that you are using hand tools and not power tools. It is hard for you to make complex items by use of your hand tools.
Q. How to Do Woodworking if You L

ive in An Apartment? 
A. Most people tend to think that woodworking requires an ample workspace. In your apartment, you can create some space and carry out your woodworking activities. Buy the essential items and ensure that your workspace is neatly arranged.
Conclusion 
If you have the right tools, woodworking is possible in an apartment very well. You can work on any small project in your apartment. Although power tools offer tremendous speed and accuracy, always use hand tools to reduce noise and dust production. 
Read lots of articles on building apartment woodworking shops. These articles will also help you to get the proper pricing for your items.
You May Also Interested to Read:
To Learn More About Woodworking and Carpentry Visit at iSaw Guide Home.