Has it already been a year since your big day? Or have you finally crossed the fifth? Perhaps, you're approaching a Jubilee and want to make it special. Anniversaries are almost as important as weddings, if not more. They're a reminder of the day you and your spouse became one.
Whether it's your first or your fifth, each one deserves equal enthusiasm and attention. Exchanging gifts is one of the most common anniversary traditions. This gesture displays how much you value one another.
Homemade wooden anniversary gifts are unique and meaningful. Everybody loves them. However, it's not easy to come up with the perfect idea. That's why we have made a list of 21 DIY wooden anniversary gift ideas for him and her.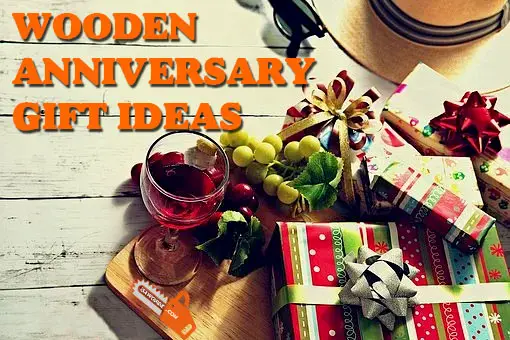 20+ Homemade DIY Wooden Anniversary Gift Ideas for Him & Her
Your gifts are an expression of your feelings. Here are a number of options for you.
1.  Personalized Wall Clock Wood Anniversary Gifts
Has it already been a year or years? Time has passed, yet it has done nothing to dampen your love. Which is the better way to say that than a DIY wall clock?
This wooden gift inscribed with your names and wedding dates is beautiful and heartwarming.
 2. Orchids Personalized Wooden Dream Catcher
A wooden dream catcher is one of the most unique wooden gifts. This wooden dreamcatcher with your partner's name carved in the middle will cause some fluttering.
It's very rare and eye-catching. Even if your spouse doesn't believe in the talisman, this will certainly drive away the nightmares.
3. Wood Hoop Earrings from Natural Reclaimed Mahogany
Wooden jewelry is one of the best wood anniversary gifts for her. Earrings are petite and whole. They don't need any other accessories to define them.
These hoop earrings are particularly trendy. You making them yourself only adds to the appeal.
On a friendly note, be careful with the measurement. You don't want them to be oversized.
4. Plaque with Poem Being Deeply Loved wooden 5th-anniversary gifts
Poems are the base of literary romance. They possess overflowing histories and stories of star-crossed lovers.
Your fifth anniversary is just the occasion to bring them to life. You have been together for half a decade. It's time to celebrate it.
This Plaque with Poem breaks the bar for luxury wood gifts. It's classy and dramatic. It is a perfect present for your partner.
5.  Personalized Cutting Board Wooden Gift Items
Are you married to a chef? Cooking items are the best wood anniversary gifts for him. DIY cutting boards are a great addition to your kitchen.
You can craft them into a number of lines and colors. You can even etch your names and wedding date on it.
Hang it on the wall or use it. The choice is your partner's.
Personalized Keychain DIY Wood Anniversary Gifts for Him
If your husband loves cars, these may be the finest personalized wood gifts for him. Key chains can become very romantic wooden gifts with the right edits.
They are diverse and attractive. This quote conveys that he is your lifeline. He will not disagree.
7. Wooden Hearts, Anniversary Keepsakes, Decorative Personalized Wooden Gifts
Valentine's day, weddings, anniversaries; such occasions never tire of the hearts. 'Two hearts beat as One is one of the most famous romantic quotes.
You and your partner are one soul. This fact is charmingly displayed by the crossed hearts. This is a delightful present for your spouse. 
8. MDF Cupcake Cake Stand Beautiful Wood Gifts
Does your wife enjoy drowning in flour and eggs? If so, this is one of the best wooden anniversary gift ideas for her. There are a lot of baking accessories in the market.
But nothing you can get her will compare to this handmade stand. It's a sweet and meaningful present. She will remember your love every time she serves on it.
9. Heart Sculpture Wooden Carved Gifts

Sculptures and romance go way back. Ever since the discovery of sculpting, artists have used it in many dreamy ways. This wooden heart is a beautiful abstract art brought to life.
Its appearance of a couple's embrace is intriguing. It's a wonderful present for the love of your life.
10. DIY 5-year Anniversary Wood Necklace
Every present has a story to tell. Wood jewelry for the 5th anniversary is creative and meaningful. With the struggles of married life, it is important to keep the feelings alive.
Handmade necklaces may not be the comeliest present, but they will mean the world to your wife.
11. Personalized Family Name Rustic Sign Wooden Crafted Gifts
After the wedding, you have to come up with something equally interesting for your best friend's first anniversary. Name signs are mostly categorized as wooden wedding gift ideas.
If you didn't choose to make one on your wedding day, it is an amazing anniversary present. You can give it to your friends and family members. It would make their homes alive and full.
12. Wood Wall Art Puzzle Piece Customized Wooden Gifts
Meeting the love of your life is like fitting a final puzzle piece to your story. This jigsaw piece of wall art says more than words.
It is one of the greatest wood gifts for your husband. He would love to know that your house is home because of him.
13. Benzara 95452 Wood Wall Plaque Brown, Dark Brown, White, Cyan, Blue
Do you want to give your significant other unique gifts of wood? Here's your answer: Wooden Wall arts. Arts never go out of style.
They're an amazing choice even if your partner is not a fan. This plaque is an exquisite piece. They will love it.
14. Bottle Wine Rack Personalized Wooden Gifts
Fancy wine means nothing without a fancy way to store your collection. Every husband loves his wine, and so does yours. Wine racks are perfect wood gifts for him.
They are out of the box. They're fun to make. Plus, your family will have a fantastic place to stock your liquor.
15. BirdRock Home Bamboo Lap Desk Bed Tray Wooden Gift Items
Any morning with breakfast in bed is romantic. For your anniversary, surprise your wife with a DIY bed tray.
These are small wooden gifts to make but are effective. The smile on her face is worth your time and effort.
16. Stonebriar Hello Sunshine Happiness is Homemade Serving Tray Set with Handles Handmade Wood Gifts
No amount of money can buy you happiness. This 'Happiness is Homemade' quote on your DIY tray is an amazing delivery of this fact.
Handmade trays are typical yet exceptional. It is a gift that your wife will appreciate very much.
17. SoCal Buttercup Rustic Necklace and Jewelry Organizer – Hanging Wall Mount Display –  DIY Wood Anniversary Gifts for Her
Believe it or not, ladies are always running out of space for their jewelry. Do your wife a favor and give her a jewelry organizer on this anniversary.
She would love to have a safe place to keep her items. It may not be romantic, but this gift is incredible in its own way. It is different, trendy, and stands out.
18. Handmade Decorative Jewelry Box with Tree of Life Carving Engraved Wooden Anniversary Gift
Like ring bearer boxes are wooden wedding gifts, jewelry boxes are for anniversaries. They're vintage and classy.
This jewelry box with the tree of life carved on its top is intricate and breathtaking. The tree represents everlasting growth like your love.
19. Anniversary Card Wooden 5th Anniversary Gifts for Him
Gifts have their significance, but wood anniversary cards are out of the ordinary. By your fifth anniversary, chances are you have exhausted all your options.
Wood is the traditional fifth-year anniversary theme. Wooden cards are unconventional and quirky. Your husband will always cherish your words written to him.
20. Golf Vintage Wood Sign (to Golf or Not to Golf What a Silly Question) DIY Wood Gifts for Him
Is your husband an obsessive golf player? Wall decoration is one thing that is never out of fashion. This sign is a humorous and fun anniversary present for him.
You can hang it in your bedroom, and perhaps, use it for occasional light teasing.
21. Bamber Coffee Cup Novelty Mugs Reusable Decorative Teacup Reclaimed Wood Gifts
Cups are universally acknowledged for their versatility. These small wooden gifts manage to fit ideally for any occasion. Handmade cups have exceptional appeal.
They're an excellent choice for your anniversary present.
Final Thoughts
There you go. These are the top 21-anniversary gift ideas. Even if you don't do any of these, hopefully, they helped you get started.
No matter which year anniversary you're celebrating, may you have many more.
Happy Anniversary!
You May Also Interested to Read:
To Learn More About Woodworking and Carpentry Visit at iSaw Guide Home.