If you need to make long and accurate rip cuts, a track saw is the right tool for the job. A track saw has a slide rail that allows it to glide accurately and smoothly on a straight line when cutting.
There are many brands on the market that provide tracks saws. If you are considering improving your accuracy and speed in your woodworking projects, go through our recommended Triton track saw review.
Triton is a top-rated brand and their track saws provide efficient performance. We will review two of their popular track saws to help you make a comparison and choose wisely.
Best Triton Track Saw Review – Our Top Picks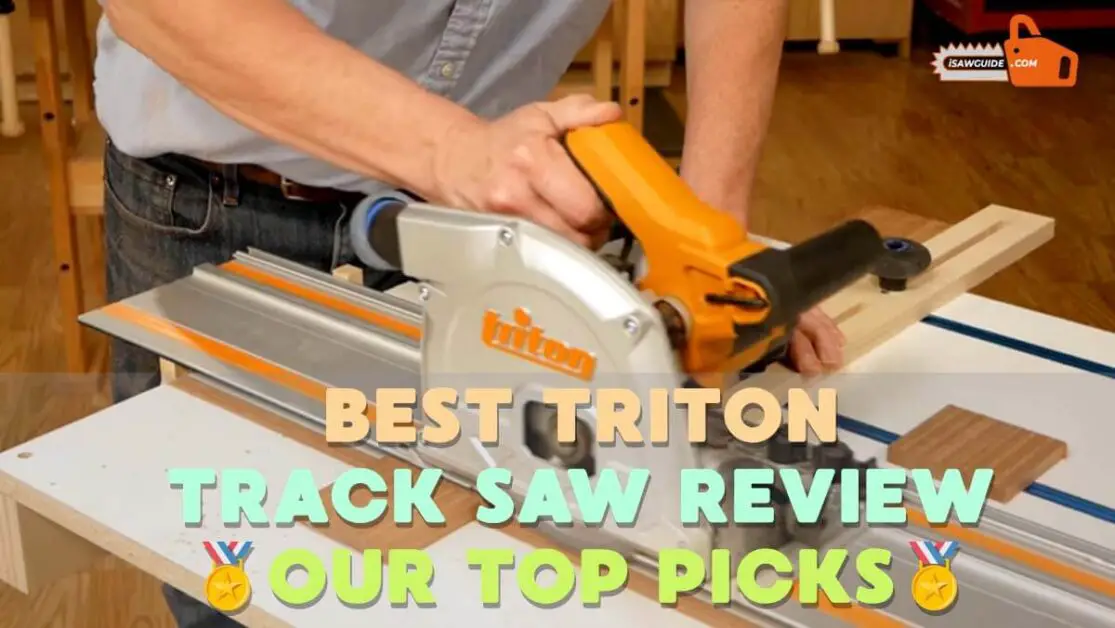 1. Triton TTS1400 6-1/2-Inch Plunge Track Saw 1400W Review
Triton plunge track saw is a perfect tool for making accurate, straight, and clean cuts. This track saw has a blade diameter of 6-1/2 and a bevel range of 0-48 degrees.  
It is easy to operate the saw because it has a user-friendly design. Besides, the machine has an excellent blade that gives better performance on your projects.
Let us examine other outstanding features of the track saw.
Powerful motor and speed
This track saw uses a 12S motor that delivers excellent cutting power through hardwood. The motor runs at a speed of 5000 rpm and provides more speed and efficiency.
The variable speed control feature makes it easy to control the saw for precise cuts when sliding through different types of wood.
Stability
Stability is key when working with a track saw. This saw has many features that provide better track alignment and nice cut guides to provide accuracy all the time.
Versatility
The track saw is equipped with a free plunge mode to give accurate and stable cuts with easy maneuverability. With its great versatility feature, the machine offers long and straight cuts.
Its convenient blade change mode offers safe blade changes giving easy access through the blade guard. The bevel quickly adjusts from 0 to 48 degrees to make precise angle cuts.
It also gives straight cuts that are suitable for trimming doors and hardwood floors without too much hassle.
Dust Port
When working with a track saw, you expect more dust. This tool includes a convenient dust port to collect the dust and give you a cleaner work environment.
Pros
The machine is easy and simple to adjust and operate
It gives a very smooth and flawless plunge action
The design gives an accurate cutting  action
Great dust collection system
Soft grip which boosts comfort and control
Cons
It has a plastic gauge design that can break easily
Poor manufacturing design
2. Triton TTS1400-1400W Plunge Track Saw 230V review
This is another great track saw that provides clean and straight cuts. The saw is easy to handle and gives easier maneuverability. With this high-performing tool, you will get the desired results.
The blade stays stable, allowing for a polished finish. It also has a flat design which makes it easy to reach the hard-to-reach areas.
The star feature allows access to the material at any time without having to place it on edge.
Powerful motor
It is equipped with a powerful motor with variable speed control.  That is enough power to boost the cutting of any stubborn material. You can use the tool for cutting hardwood flooring or trimming doors.
Blade flat design
The triton track saw kit has a great blade flat blade design. The plunge saw flat design allows you to get closer to the material you are cutting. It is a great tool for cutting near door edges. Besides, its design allows it easier to make accurate cuts
Dust extraction
The dust extraction feature is one of the triton track saw accessories that help keep the environment clean. The machine dust system is highly efficient with a universal vacuum system outlet.
You can keep your working place with the dust extractor. It provides a 360-degree rotational outlet and sucks most of the dust produced when cutting.
Other Features
This track saw also has an anti-kickback safety feature to prevent the tool from jolting. It also has overload protection and a soft start.
 Pros
The machine features an advanced kickback that prevents jolting when performing joint cuts
It features a non-slip rubber grip handle that improves comfort and safety
Powerful dust bag that protects the eye and lungs
Suitable for bevel and precision cuts
It is ideal for trimming and cutting hardwood floors and doors
Cons
Some of the track plunge systems tend to cause difficulties in operation
The track saw feels underpowered
Frequently Asked Questions (FAQ)
Q: How do you use a Triton track saw?
A. Using a Triton track saw is a pretty simple task if you know the steps. First of all, ensure that you hold the plunge saw firmly. Then consider choosing the starting the release button.
As the module opens, press the trigger button for the machine to start. Give it some time before you begin cutting. Always ensure that your safety comes first. You can consider wearing protective gear.
Q: Are Triton tools good quality?
A. Triton tools are good quality machines. The machine features a good and well-built construction. With its superb and amazing features, its machine works effectively. Additionally, you cannot compromise on its quality as it performs highly.
The tools are also versatile, which allows cutting on any material.
Final Words
Compare the two Triton track saws and decide which one is suitable for you. Both the above products are great, and you should consider one according to your needs.
These Triton tools provide accuracy, safety variable speeds, easy blade changing, and excellent dust collection.
Depending on what you prefer, you can choose the right tool to match your needs. They both offer accurate and precise cutting angles without damaging the material.
The tools also allow you to change their parts easily.
You May Also Interested to Read:
To Learn More About Woodworking and Carpentry Visit at

 iSaw Guide 

Home.