With the advent of modern technology, people find old manual tools redundant, such as axes, which they used for wood cutting in ancient times. It's economical to use high-powered chainsaws that will spare you the staining and dirt that you get from using traditional tools.
High-powered chainsaws that will spare you the staining and dirt that you get from using traditional tools. In this article, I will give you more in-depth information on how to sharpen a chainsaw with a Dremel. First, let me know about the chainsaw and Dremel.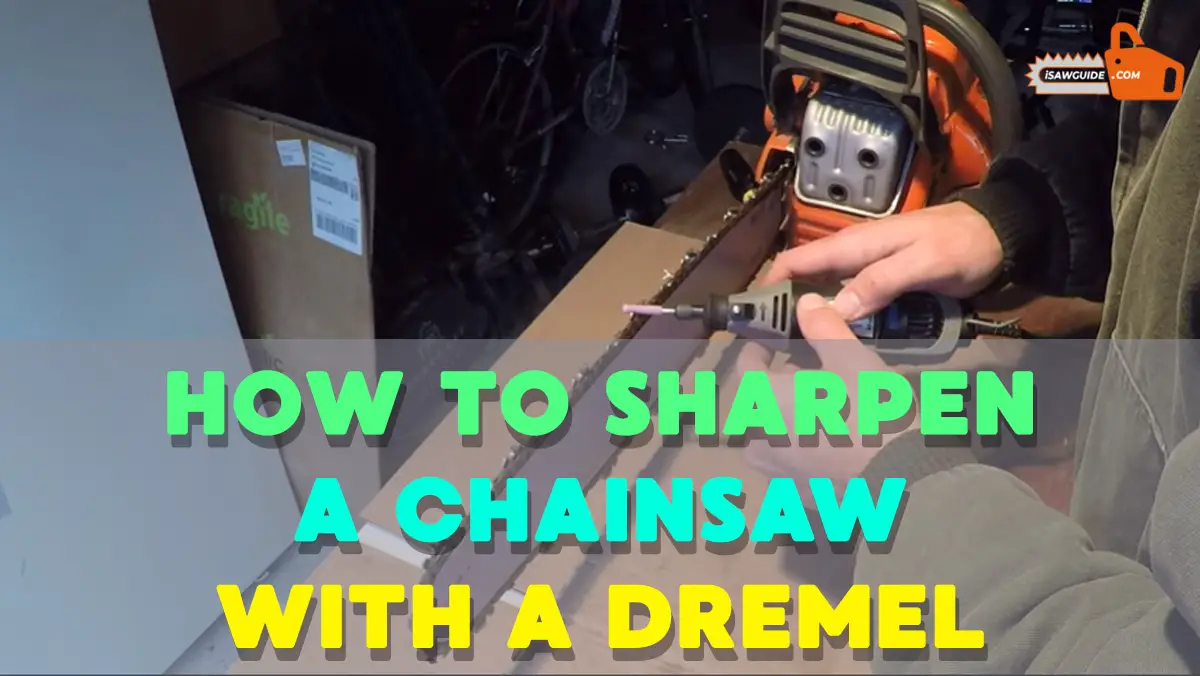 What is Chainsaw?
A chainsaw is a wood cutting tool which has a sharp serrated chain that moves round to cut the wood. It uses a fuel-driven motor that rotates the chain to cut through any wood. You will require only a little energy to hold the chainsaw in position, but the motor facilitates the rest.
Chainsaws are of different sizes and power. Some motors are powerful than others. Certain chainsaws are longer than others shorter in length. The best depends on how you intend to use your chainsaw.
A chainsaw is a mechanical power-driven cutting tool with teeth set on a chain which moves around the edge of a blade (Oxford Dictionary).
What is Dremel?
A Dremel is a tool with a universal head to be fitted with different sizes of bit attachments used for sharpening chainsaws. The tools are manufactured by an American based company known as "Dremel" and which manufactures the best sharpening tools.
All their Dremels and their rotary bits are of high-quality and are highly effective in sharpening different chainsaws. For the professional sharpening of a chainsaw, it is good to but a Dremel tool that simplifies the sharpening work.
Dremel is an American brand of power tools known primarily for its rotary tools. Dremel's rotary tools are similar to the pneumatic die grinders used in the metalworking industry by tool or moldmakers. (Wikipedia)
Dremel sells rotary bits of different sizes in a single pack, and you can choose a size according to your requirement. These tools have been proven for high performance and high quality by professionals who use diamond chainsaws.
All products from Dremel can help you achieve professional results at home, and they are compact, powerful, versatile, and lightweight.
Nothing can sharpen your chainsaw as good as a Dremel. Let's read about how to sharpen a chainsaw with a Dremel and some useful tips and tricks!
How to Sharpen a Chainsaw with a Dremel – Step by Step Guide
Assembling the Tools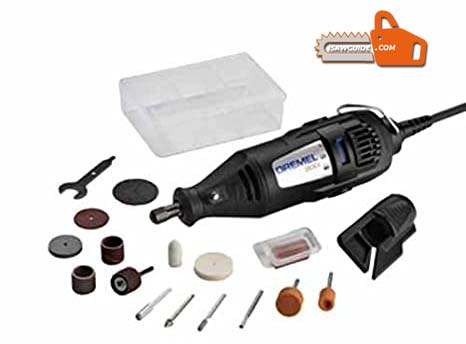 Before you start sharpening your chainsaw, you must assemble all the tools you will require to sharpen the chainsaw.
It would be best if you have a tarp, a Dremel with a diamond sharpening attachment, safety goggles, and lubricant oil as well as working gloves. Each tool is essential for the effectiveness of sharpening your chainsaw.
You should also select an open space where you will sharpen your chainsaw. The place needs to be comfortable so that you don't strain yourself while sharpening your chainsaw.
You can sharpen your chainsaw anywhere, but choosing an open space like a garage can help you with managing waste disposal.
The garage has enough room for keeping your tools, and there are least chances of getting disturbed during your task. In most garages, there are unique rooms meant for sharpening purposes.
Safety When Sharpening a Chainsaw
Whenever you want to handle tools in a garage or even outside, you have to be in proper protective gears. Safety comes first when handing sharpening tools, and you must wear proper gloves to hand sharp objects along with safety goggles to protect your eyes from iron specs.
It's good to prevent such injuries than end up treating them. Observing safety is the first secret to sharpening a chainsaw.
Start by Removing the Blade
This is the third step towards sharpening your chainsaw using a Dremel chainsaw sharpener. It is advisable to remove the blades following the manufacturer's manual to avoid damaging them. There are some chainsaws you can sharpen with the modules in the frames.
Blades are easy to sharpen when they are removed, and it also makes it easy to work on individual blades on the chain.
Remember, you must be careful because the blades that you want to sharpen can still cut your soft flesh.
Using a Dremel Effectively
One thing about a Dremel is that it's usable for various purposes. This tool has a strong handheld base and a universal head where you can attach several tools. The head rotates whenever you switch on the Dremel. It is this head rotation that will sharpen the blades.
Below are the chainsaw sharpening techniques used in using a Dremel:
Ensure you a squared slab with a cylindrical container attachment at the center. The diameter of this container should be the same to the one on the hole on the chainsaw's blade. The square slab should have a wooden slab on the lower side to be secure.
The chisel should be attached on another slab to ensure the cylinder and the Dremel are held in a good position for effective sharpening.
The blade should be put in the bottle and allowed to rest on the slab.
Turn on the Dremel diamond chainsaw sharpener and run it free for a while.
The blade should be passed through the tool while rotating it on the next tooth.
Repeat this process to sharpen all the other blades.
The Dremel should always be on your right-hand side. You should remove and flip the Dremel to keep it in the right position. For effective results, exert little pressure on the edge of all the chain teeth against the blade of your Dremel for some seconds.
Chainsaw Sharpening Mistakes
Some people make mistakes while sharpening their chainsaws. To ensure that you don't get into a mess, you must understand how to use a chainsaw sharpener correctly. Below are some mistakes chainsaw sharpeners make:
Using the wrong-size file for round-tooth chainsaws.
Filing the cutters instead of the depth gauge.
Over-filing the depth gauge, which makes your chainsaw to overwork and becomes prone to kickback.
Using a dull file to sharpen your chainsaw.
Not bracing the saw properly.
Filing backwards.
Other than these mistakes, you should always place your chainsaw at appropriate chainsaw sharpening angles. Failure in doing this may result in loss and damage of either the blades or the entire chain.
Is It Worth Sharpening a Chainsaw?
If you value the machine you purchased for working on wood, you should keep it sharp. Working with a chainsaw that is not sharpened is tiresome and dangerous.
An unsharpened chainsaw will end up consuming a lot of fuel and doing very little work. Your machine can break down due to possible kickback the chainsaw may experience.
To summarize:
A dull blade puts pressure on the engine.
A dull blade may lead to some accidents because it causes resistance as you cut.
A dull blade cuts poorly.
A chainsaw with dull blades is not economical on fuel consumption.
Chainsaw Sharpening Kit
A basic kit contains eight chainsaw sharpening tools that are Unidrift. All the tools required to sharpen your chainsaw are included in this kit. It also comes with a guide to help you do the job in the right manner.
This guide shows you how to use different sharpening angles. The kit also includes files to handle various chain gauges. Also included in this kit is a depth gauge tool for fine-tuning the depth gauges.
The Best Way to Sharpen a Chainsaw
You can decide to sharpen your chainsaw manually using a file or using an electric chainsaw sharpener. It will all depend on your preferences.
However, some people may end up arguing that sharpening it using hands is fine, but this way, it's tiring and time-consuming.
Electric sharpeners save time, are effective, and hence the best option for aggressive cost-effective chainsaw sharpening.
Your Chainsaw Must-Have Lubricating Oil
Paramount for the effectiveness of any machine as it helps prevent wear and tear of its parts. Running a chainsaw without a lubricant will damage it.
The chain quickly wears out due to friction with the chainsaw bar. You should check the oil level whenever you want to use the chainsaw.
Conclusion
With all the information listed here, you are now in a better position to sharpen and use your chainsaw effectively. This will make your experience fruitful and will help prevent any accidents that may arise as a result of dull blades.
You're now aware of how to keep safe during sharpening a chainsaw with Dremel, how to avoid mistakes and the importance of lubricating your machine. Thank me later!
You may also read: