I do not know if any of you has ever encountered Husqvarna chainsaw starting problems. If you have, you would know that, more than anybody else, you don't want to go through such ever again. Precisely why we offered guidelines on how to start a Husqvarna chainsaw.
You can consider this as part of the Husqvarna chainsaw training manual for a refined understanding. You don't have to go to extreme lengths just troubleshoot starting problems.
Believe me; any repair method is practically basic. Read on to find out how you can start your chainsaw.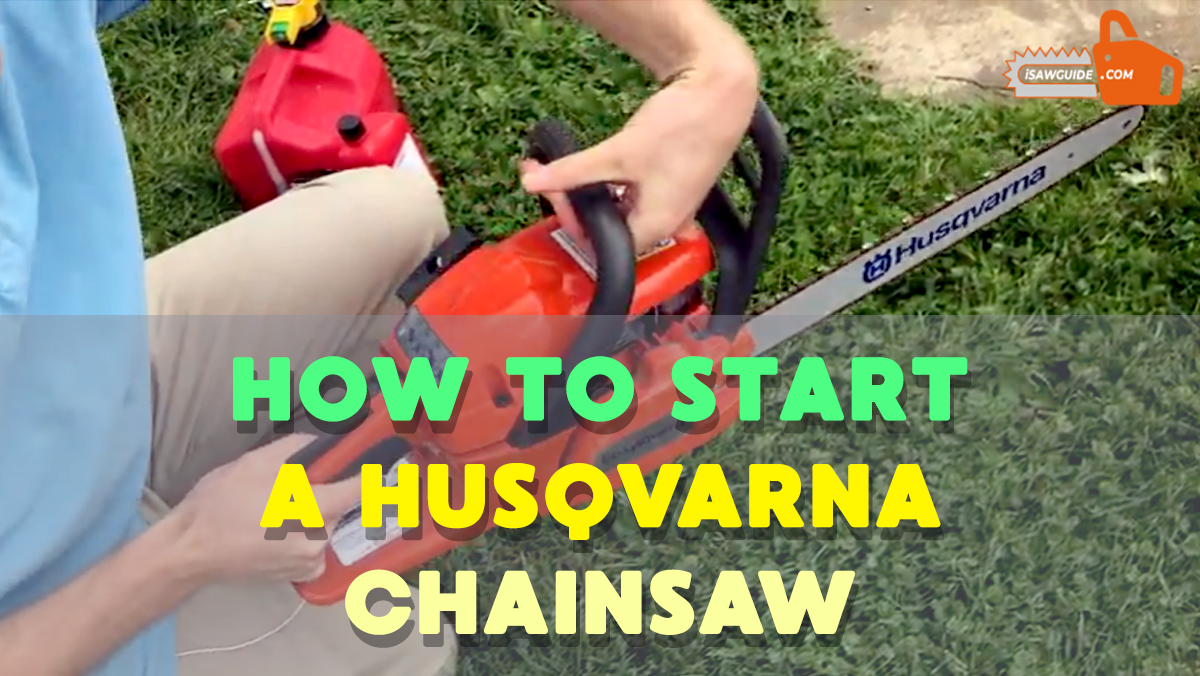 Common Starting Problems with Husqvarna Chainsaws
These issues are relatable to Husqvarna 350 chainsaw problems. The troubleshoot repair matches Husqvarna 450 chainsaw troubleshooting and Husqvarna 440 troubleshooting.
Dirty Air Filters
Unclean air filters draw more gas than air, which is similar to when the choke is on. Operating a chainsaw in this condition increases carbon deposits due to the production of unburned fuel. The accumulation of carbon could go from bad to worse when the engine is idle.
To prevent the occurrence of prevalent complications, clean your air filter after each use before returning it.
Clogged Carburetor
Do not fill the fuel tank of your chainsaw unless you are running it. Otherwise, the fuel will clog the carburetor after leaving it in the tank for too long.
What happens is the light constituents of the fuel will evaporate, leaving a thick combination behind. This offers an explanation for Husqvarna chainsaw not getting fuel.
If the clogging has already happened, clean the carburetor carefully with a specialized carburetor cleaner. Return it once you have disposed of the residue.
If thick, sticky substances are also attached to the chainsaw, clean it also. If cleansing the carburetor does not solve the problem, consider replacing the whole of it.
Flooded Engine
The fourth step when starting a chainsaw is pressing the fuel pump/ primer bulb for easy startup. But overdoing it may flood the engine and impede the engine from running.
A clear indication of this incident is smelling fuel from your chainsaw. If you want to find out, otherwise try to remove your spark plug and check for moisture.
The best way to overcome this problem is by opening the spark plug and draining the fuel from the tank. Deactivate the choke and pull the starter rope while briefly pushing the throttle. Dry the spark plug and place it where it belongs.
Check The Fuel Tank
It may sound pretty stupid, but this may occur when trying to figure out all the reasons why your chainsaw is not working. You may have forgotten to infill the fuel tank with more fuel, or the fuel is bad.
Bad fuel is usually overstayed after chemical components in the fuel have evaporated and broken down.
If the fuel is bad, empty the tank and refill it with new, clean gas. Ensure the fuel combination is compatible with your engine. Avoid methane or ethane combination in fuel mixtures are corrosive to the engine.
For further clarification, refer to your user manual, which can be a useful Husqvarna 350 chainsaw repair manual.
Non-Responsive Spark Plug
The reason why it's called a spark plug is because the plug of the saw has to spark to initiate fuel combustion. The spark plug may commonly get corroded overtime after consistent application.
To ensure that the spark plug works test it the plug wire on a metallic part and observe sparks.
If there are zero sparks, use a steel brush to clean off the corrosion. Futile results, calls for a new replacement.
In case you asked yourself, "Why does my Husqvarna chainsaw stall?" hopefully, the answers are right above you.
How to Start A Husqvarna Chainsaw
Doing this in the wrong way will obviously lead to disappointing results, so learn it the proper way.  This also applies to how to start a Husqvarna 61 chainsaw.
Place the chainsaw on a flat surface and remove the bar cover.
Push chain brake on the top handle forward to activate it as a way of ensuring safety.
Use the Husqvarna smart start by pushing in control.
Press the fuel pump for easy viewing of the fuel level.
Pull the starter rope with your
Use your right foot on the rear handle for pulling starter rope and hold the saw with the left hand.
Push the throttle halfway and pull the starter rope till the chainsaw is running.
Do not hesitate to apply the same steps when learning How to start a Husqvarna 350 chainsaw
Troubleshoot Husqvarna Chainsaw Won't Start
If your Husqvarna chainsaw won't start, it could be the carburetor is clogged. Such problems take place when you leave you're the tool with oil for quite some time. I will take you through some ways on how you can troubleshoot the saw.
Husqvarna 51 Won't Start
Cold weather- the engine of the chainsaw may have attracted cold from lying on a cold floor or inactivity. This causes a delay in starting up the chainsaw; it is common in places with cool climatic conditions. Find the choke and optimally pull it out.
Pushing the throttle for long- you normally hit the throttle halfway when the chainsaw starts for consistent speed. When the chainsaw sputters immediately, it runs, tap the throttle a few times to inject more fuel. However, doing this more than a few times causes the engine to halt.
Stubborn starters- sometimes, the starters are just more adamant than other regular models. So don't cop out until you try pulling the rope a couple of times with more than ordinary effort. For big chainsaw engines, the starter cord tension needs greater energy to pull.
Excess fuel- this practically explains why Husqvarna chainsaw hard to start when warm. The chainsaw starts when cold but immediately stops when the engine heats up due to a high air-fuel ratio.
It is also reasonable to think this explains why Husqvarna 455 rancher won't start, plus it relates to Husqvarna 550xp starting problems.
Before you begin working with your saw, you should go through the instructions on the manual. This is essential to help you understand how the tool works as well as safety precautions to take.
Rope attachment- it's for fastening a rope then attach it to a tree for support.
X-Torq- ensures optimal fuel consumption reducing the levels of emission gases as per the environmental regulations.
Adjustable oil pump- it regulates oil flow according to weather conditions and applications.
Side-mounted tensioner- offers quick and easy chain tensioning.
Air filter cover-for convenient replacement or servicing of spark plug or filter.
Chain brake window- easy to view the guide bar tip.
Chain brake- its inertia activated for improved safety during a kickback.
Husqvarna 435 Chainsaw Problems
The problems of the Husqvarna 435 Chainsaw Problems may be similar to Husqvarna 235 problems.
How to Choose a Husqvarna Chainsaw
It can appear with much clarity that Husqvarna brand has been in business for a remarkable period. No wonder the wide array of Husqvarna chainsaw models flooding European, Asian and American markets.
However, this may pose a problem when it comes to picking the proper Husqvarna chainsaw for residential properties. To wipe off all the confusion and hesitation, be sure to follow through some considerations to make.
Skill Level
Beginner- I wouldn't imagine seeing a newbie holding a heavy-weight and overly large chainsaw on their first day on the job. You would agree we did not learn three figures multiplication on the first day at school.
Therefore, if you are a beginner, settle for something light-weight, small and easy-to-use and begin to mark your progress. A perfect machine for beginners is Husqvarna 435 chainsaw.
Professional- I believe for someone at this level, you have already mastered everything you know about a Husqvarna chainsaw.
Professional loggers perform wood cutting tasks on a large scale, which calls for large machines with long-chain bars and high horsepower motors.
It is naturally crucial to complete a large workload within a limited amount of time while doing a quality job.
Purpose
Heavy-duty tasks- these tasks are involved with cutting huge trees and doing rather intense jobs. They would often be identified with professional loggers and ranch owners.
You would require a powerful and big Husqvarna chainsaw suited for both commercial and residential purposes.
Light-duty tasks: Most homeowners get a chainsaw for chopping firewood, prune hedges, and cutting small trees. And it doesn't seem like a job too hard to accomplish.
Therefore a light-weight and easy-to-use Husqvarna chainsaw would do. A good example is Husqvarna chainsaw 440.
Maintenance
Every chainsaw cannot afford to be neglected, and it's the same with your car or any other machine. Not everyone can be fond of doing maintenance jobs such as cleaning filters, replacing chain bars, or spark plugs.
Try looking for chainsaws with low-maintenance specifications such as maximum airflow e.g., Husqvarna chainsaw 240. Maintenance and servicing come a long way in improving the performance and longevity of a Husqvarna chainsaw.
Gas or Electric
You can pick gas chainsaws because they are best when it comes to consistency and doing heavy-duty jobs. Their downside is in the noise output; I would not consider it if you live in an open residence for your neighbors.
On the other hand, electric chainsaws are quiet and environmental-friendly but not as useful for demanding jobs.
Conclusion
I hope you have realized that a Husqvarna chainsaw does not start is not trash. At least not until you perform troubleshoot guidelines to fix the major problem of how to start a Husqvarna chainsaw. The simple solutions will get your Husqvarna chainsaw up and running like before.
You May Also Read: